Nigeria flag flying at the Westminster, unprecedented honour of Nigeria, on the 8th February, 2022 commemorating the Maiden visit of the High Commissioner of Nigeria to UK Ambassador Sarafa Tunji Isola to the Speaker, House of commons at the residence of the Speaker.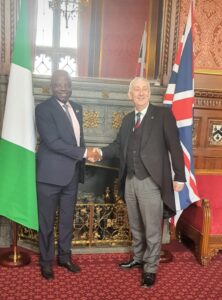 The Nigeria High Commissioner since taking office have been noted powerfully working and changing the narratives between the countries as well as standing for Nigeria and other African countries especially during the Covid 19 lockdown.
Bilateral discussion on Nigeria between the Speaker, House of commons, UK – Sir Lindsay Hoyle and the High Commissioner of Nigeria to UK Ambassador Sarafa Tunji Isola at the residence of the Speaker at Westminster, London, UK expanded on the available opportunities especially now the UK is relaxing all Covid 19 protocols.
It will be recalled that Helen Grant MP, UK Prime Minister's Trade Envoy to Nigeria, and Mr. Adeniyi Adebayo, Nigeria's Minister of Industry Trade and Investment, had held a virtual meeting, which was the sixth meeting of the United Kingdom-Nigeria Economic Development Forum (EDF) to strengthen bilateral agreements.
The meeting was joined by the Acting Trade Commissioner for Africa, Alastair Long, the Comptroller General of the Nigeria Customs Service, Col. Hameed Ibrahim Ali (Rtd) and other senior government representatives from Nigeria and the UK.
The outlined of the agenda was the opportunities UK-Nigeria partnership would offer centred on the state of bilateral trade, challenges and priorities ahead, opportunities to 'build back better' from COVID-19, the Nigeria Government's preparations to attend the 2021 United Nations Climate Change Conference (COP26), and plans to implement the revised Nationally Determined Contributions (NDCs) according to TD Media.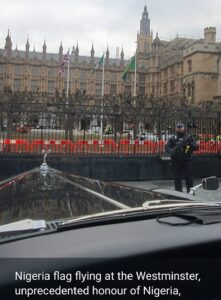 Now with this latest meeting between Nigeria High Commissioner and The Speaker, Nigerians ready for trade and business developments will have the opportunities to expand.
—————————————————————————————————————————————
Your help to our media platform will support the delivery of the independent journalism and broadcast the world needs. Support us by making any contribution. Your donation and support allows us to be completely focus, deeply investigative and independent. It also affords us the opportunity to produce more programmes online which is a platform universally utilised.
Thank you.
Please click link to make – DONATION