The Nigerian government at their Federal Executive Council, FEC, yesterday has approved N35 billion for various projects in the aviation sector.
Senator Hadi Sirika, Minister of Aviation, speaks to the media that the approval are towards terminal buildings at Asaba and Akanu Ibiam International Airport in Enugu State.
Out of the approval, is the sum N5.6 billion is for the maintenance of the terminals in Abuja (FCT) and Port Harcourt (Rivers State).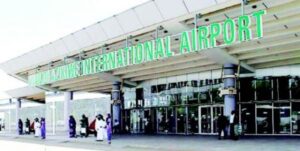 Senator Sirika said, "There were five memoranda from civil aviation, which were all approved, starting from the one for contract for the maintenance of Nigeria's new international terminal buildings in Abuja and Port Harcourt.
"This is in line with government's policy to ensure that public buildings are well maintained so that they will remain as they are.
"In this case, contract was approved for the two terminal buildings at a total cost of N5,653,341,729.07, including 7.5 per cent VAT, for a period of three years," he said.
Finally adding that FEC also approved N14.2 billion due to an increase in the cost of the construction of terminal buildings at Asaba and Akanu Ibiam International Airport Enugu State.
"The second memo is the approval for increase in the cost of construction of new terminal building at perishable cargo airports in Enugu and Asaba".
"That of Asaba is not a Federal Government airport, but we are putting in a cargo terminal building there".
"This is funded through the federal budget. Recall that the remaining four terminal buildings in Kano, Lagos, Port Harcourt and Abuja are funded through Chinese loans.
"The Enugu airport is funded through our appropriation including the cargo terminal therein and also the cargo terminal at Asaba.
"The increased cost for these procurements is N14,242,808,433.17 with 12 months additional completion period."
He added that the Ministry will secure  an X-ray machine and maintenance support services.
"The other one is approval for the award of contract for the procurement of L3 X-ray machine parts and maintenance support services.
This procurement is in the sum of N469,679,484 with 7.5 per cent VAT to be supplied in a period of 12 months. "
Senator Hadi concluded with more procurements, configurations, deliveries and commissioning of transportable radars for maximum increase in security while abrpund N14.7 billion is for the construction of clinics at Abuja, Lagos, Kano and Port Harcourt Airports and replacing of elevators and excavators at Wings `D' and `E' at the old Lagos Airport.
Additionnan
—————————————————————————————————————————————
Your help to our media platform will support the delivery of the independent journalism and broadcast the world needs. Support us by making any contribution. Your donation and support allows us to be completely focus, deeply investigative and independent. It also affords us the opportunity to produce more programmes online which is a platform universally utilised.
Thank you.
Please click link to make – DONATION