————
The Nigerian British Business Forum (NBBF) led by their President, Prince Afolabi Andu paid a coutersy visit to the Nigeria High Commission on a business intervention and how they forum can collaborate with High Commission.
This is in line with other groups and organisations that have been over the last months engaging the new executives at the helm of the embassy under new High Commissioner, Ambassador Sarafa T. Ishola.
Top on the discussion are the presentations of diverse thought provoking ideas by leaders of thoughts, business and entrepreneurs spanning across various industries as well as major players in the UK's economic development and strategies. They are seen as bridge builders and icons not just in the United Kingdom but have individually contributed in Nigeria's development.
The member who are top professional career experts highlighted their willingness to work with the High Commissioner and see this initial interaction as the first of its type for a long time and with their economic growth, educational system skills, technology information and most importantly the Agricultural sector's driven initiatives are ready for golden years ahead.
His Excellency Sarafa Ishola in his remarks called on the group to use their gained skills and expertise to not only partner with the Embassy but provide more meaningful and excitable policy ideas and directions. That the embassy is there to facilitate and deals with any other requirements and help solve their problems.
The Nigerian British Business Forum Delegation to the Embassy are:
Prince Afolabi Andu
CEO, Visage World Ltd & President of the Nigerian- Global Business Forum
Senior Frederick James
Vice Chairman, Nigerian- British Business Forum, Advisory Board & Executive Chairman, The 805 Restaurant Group
Professor Olu Obaro
Member Nigerian-British Business Forum, Advisory Board, CEO, Olu Obaro Foundation
Engr Dapo Sulu
Chairman, Nigerian British Business Forum, Infrastructure Group &CEO, Kaidy Engineering Ltd
Mr William Oyewole
Chairman, Nigerian British Business Forum, Export Group & CEO, Rowsy International
Mr Charles Khiran
CEO, Charles Khiran International (Subscribed member)
Engr Gina Ayoola
CEO, Wavepalms Ltd & Chair, Nigerian British Business Forum, Innovation Group
Dr Jennifer Obaseki
Chair, Nigerian British Business Forum, Legal Group & Principal Partner, Obaseki Solicitors
Ms Abiola Obileye
CEO, Datasoft Ltd (Subscribed member)
Mr Mayowa Oluyede
CEO, Estate Consult Ltd TA/MS Estates  (Subscribed member)
Mr Sam Bode Odeyemi
Chairman, Nigerian British Business Forum, Information Technology, Group & CEO, MTC Global Services Ltd
Mrs Folakemi Kuti 
CEO, Nurture Ville (Subscribed member)
Ms Bunmi Mustapha
Chair, Nigerian British Business Forum, Events & Hospitality Group & CEO, Kiskirine Events
Mr Jerry Ejikime
CEO, Sofitel Group (Subscribed member)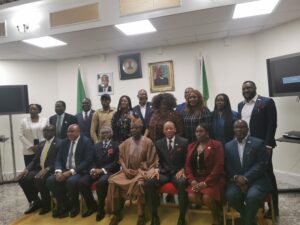 Others are top British and Nigerian legal Icon, Oba Nsugbe QC, Ms. Funmi Adewara, CEO, MobiHealth and Mentoring Cmdt Alistair.
The Minister of Trade and Investment in the Nigeria High Commission, Cyprian Heen, is already positioned to advice and provide the needed supports to the forum. Highlight of the meeting is the decoration of NBBF with dual Nigerian UK badges by the Ambassador and assisted by Minister Cyprian.
—————————————————————————————————————————————
Your help to our media platform will support the delivery of the independent journalism and broadcast the world needs. Support us by making any contribution. Your donation and support allows us to be completely focus, deeply investigative and independent. It also affords us the opportunity to produce more programmes online which is a platform universally utilised.
Thank you.
Please click link to make – DONATION