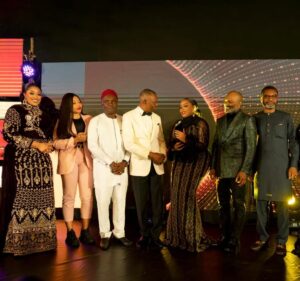 Optiva Capital Partners Ltd is proud to announce that its esteemed CEO, Ms. Jane Kimemia, was recognized at the prestigious BusinessDay Top 25 CEOs and Next Bulls Awards held at the Federal Palace Hotel, Victoria Island, Lagos, on Sunday, September 16, 2023.Ms. Kimemia, a Pan African business leader with over 25 years of extensive experience, has been at the helm of Optiva since 2017.
Under her leadership, the Investment Immigration giant and the industry leader has consistently demonstrated dedication to delivering exceptional results in second citizenship and residency whilst guiding clients toward successful local and international investments. The award is a testament to Ms. Kimemia's unparalleled contributions to the company through corporate management, leadership, wealth management, exemplary performance in financial management, strategic planning, innovation, and building strong relationships with customers and stakeholders.
In his remarks at the ceremony, Mr. Frank Aigbogun, Publisher/Chief Executive Officer of BusinessDay Media Limited, emphasized that the Top 25 CEOs Award seeks to identify and reward exceptional leadership and financial growth in the business world. This aligns seamlessly with Optiva's values of exceptional service delivery, professionalism, collaboration, and excellence. At Optiva, we understand the significance of financial security, mobility, and global opportunities for Nigerians.
This is why we have cultivated profound expertise to offer services that enable individuals and families to navigate the complexities of mobility, access, and business leverage. We partner with individuals and families to protect, grow, enhance, and optimize their wealth so that each partner can create a legacy without limitations. I am very pleased to have our efforts at Optiva recognized, highlighted, and appreciated.
"The CEO of Optiva Capital Partners, Ms. Kimemia, in the company of the Chairman of Optiva Capital Partners, Mr. Franklin Nechi, appreciated BusinessDay and the award organizers. The Optiva Capital Partners delegation at the event was led by the Chairman of the company, Mr. Franklin Nechi, Dr. Frank Nweke JR, and Mrs. Amaka Okeke-Lawal, Executive Director of Business Development.
The BusinessDay Top 25 CEOs award recognizes companies across various sectors that have significantly contributed to the Nigerian economy, fostered innovation, and achieved exceptional financial growth. "It is an award to reward excellence, innovation, and the good works of CEOs," said Mr. Seyi Osasanya, the chief commercial officer of BusinessDay.
The event was graced by industry leaders, top business personalities, entrepreneurs, and captains of industry. Notable awardees alongside Ms. Kimemia included the Chief Executive Officer, Fidelity Bank Plc, Mrs. Nneka Onyeali-Ikpe, Chief Executive Officer, Seplat Plc, Roger Thompson Brown, Group Managing Director, FBN HOLDINGS PLC, Nnamdi Okonkwo, Chief Executive Officer, WEMA BANK PLC, Moruf Oseni and many other distinguished personalities.
About Optiva Capital Partners Ltd: For over a decade, Optiva Capital Partners Limited has been a beacon in the Investment Immigration industry. With an unwavering dedication to guiding clients through global markets, legal frameworks, and immigration procedures, Optiva stands as a testament to excellence and commitment. Supported by a rich network of elite global partners in specialized Investments advisory, Investment Immigration, and insurance advisory services, Optiva has established a reputation for excellence with a broad base of knowledge and experience from years of providing solutions to thousands of families.
—————————————————————————————————————————————
Your help to our media platform will support the delivery of the independent journalism and broadcast the world needs. Support us by making any contribution. Your donation and support allows us to be completely focus, deeply investigative and independent. It also affords us the opportunity to produce more programmes online which is a platform universally utilised.
Thank you.
Please click link to make – DONATION