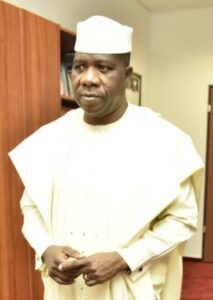 As part of the drive to create atmosphere of equality among all productive youth in Ekiti State, the Senator representing Ekiti Central Senatorial District at the 9th Senate,  Senator Michael  Opeyemi Bamidele, has empowered 120 physically- challenged in the state.
The Senator presented cash gifts and wheel chairs to all the participants while also exposing them to training  in vocational and entrepreneurial skills that would make them relevant under the present harsh economic situation.
Bamidele, who made the donations in Ado Ekiti, the State Capital through his Senior Legislative Assistant, Hon. Bunmi Oguntuase, said the gesture was targeted at alleviating poverty among the physically -challenged in Ekiti.
The lawmaker revealed that the first phase of the soul-lifting Empowerment Programme began in year 2020, where the beneficiaries, numbering 95, were given support to be economically independent.
The Chairman, Senate Committee on Judiciary, Human Rights and Legal Matters, added that the parlous state of Nigeria's economy has inflicted a lot of pains on those in this category and create a wide gulf of inequality between them and able bodied citizens.
Bamidele regretted that the country's structures were  skewed in a way that put the physically- challenged in a precarious situation, which he said necessitated the neglect being suffered by members.
He promised that he would continue to give support and empowerment to physically challenged in his constituency,  to bridge the gap of inequality in the country and increase their access to dividends of democracy that has long eluded them.
"The structure of this country made it difficult for the physically challenged to savour the dividends of democracy in terms of access to the country's Commonwealth.
"In fact, it is sad that they were being discriminated against in all ways. They were not being considered for political appointments, employment opportunities, family inheritances , government empowerment programmes and even on the day of election, some of them find it difficult to go to the polling units to make their choices.
"Any society that is lopsidedly structured like this would automatically create more disabilities in ones' abilities.
"That is why it is expedient for government at all levels to respect the UN Human Right charters that every citizen, irrespective of race, political affiliations, colour and body composition, must have equal access to government Commonwealth.
"It was on this basis I was propelled to give them empowerment through training and mobility to make them relevant,because physical disability doesn't connote that one is bereft of ability that can make him contribute  to national growth and development".
Bamidele promised that he would continue to give support to people suffering any form of physical challenge in Ekiti as a  way of tackling poverty and keying into the Human capital development and Social Investment Policies as contained in Governor Kayode Fayemi's cardinal programmes.
"The APC led Federal government of President Muhammadu Buhari and Governor Kayode Fayemi in Ekiti State believed in Human capital development and social investment programmes and we have to complement the programmes being done by the executives for the dividends of democracy to trickle down to all strata of our society".
One of the beneficiaries, Mr.  Araomo Stephen, from Ado Ekiti, said the training has imbued him with modern entrepreneurial skills that would make his Small Scale business thrive further.
Araomo, who is a Shoe Maker added that with this training, he  has acquired more business acumen that would make him relevant despite the stiff competition in the commodity market.
"I have gained a lot from this training and empowerment programme. I appreciate Senator Bamidele and urge him to continue with this programme because it will help in changing the lives of my colleagues and reduce poverty in our dear state".
Another beneficiary, Mrs Hannah Ojo from Aramoko, in Ekiti West Local Government, applauded the programme concept, which was to make the physically challenged  self -reliant.
"This programme will make us to be self- reliant and that is the best help anyone can render for us. We cannot continue to be beggars eternally, but with this, we can also make our lives better and stop being beggarly"  .
Also Speaking on the gains of the programme, Mr. Thomas Afeni, from Ado Ekiti Local Government, commended Senator Bamidele for capturing the group as beneficiaries of his empowerment programme.
"The fact that Senator Bamidele included us in this programme has really increased our trust in APC government and give us a confidence of a bright future despite our challenges.
"We really appreciate him and pray for his success in all his endeavours".
—————————————————————————————————————————————
Your help to our media platform will support the delivery of the independent journalism and broadcast the world needs. Support us by making any contribution. Your donation and support allows us to be completely focus, deeply investigative and independent. It also affords us the opportunity to produce more programmes online which is a platform universally utilised.
Thank you.
Please click link to make – DONATION