Facts on the Targeted and Preventable Mischaracterization of H/E Rt. Hon. Emeka Ihedioha's Townhall Meetings in the United States.
Mbaise USA, an umbrella organization of Mbaise citizens across the United States, invited the former duly elected Governor of Imo State, His Excellency Rt. Hon. Emeka Ihedioha, CON, KSC, to her 13th Annual National Convention in California as a Special Guest, which he graciously accepted and attended from July 6th, 2022 through the 10th.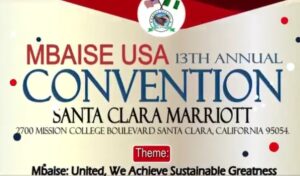 On arrival in the United States, he made a brief stop-over in Houston. Imo citizens and their friends volunteered to host him by organizing a Townhall meeting. His Excellency, Rt. Hon. Emeka Ihedioha, graciously accepted to address our citizens in Houston. During the Townhall meeting, His Excellency expressed his gratitude to Imo citizens and all those who supported him during his successful run for the highest office in Imo State. The privilege afforded him the opportunity to share his accomplishments for the seven months he presided over the affairs of Imo State. He interacted with the attendees by answering their questions and encouraged them not to lose hope or interest in the affairs of Imo State. He assured them that the problems of Imo State are not intractable and went further to showcase his infectious optimism at all the Townhall meetings by promising that with the right leadership, good vision, correct priorities and altruistic commitment by elected officers, the upliftment and development of our dear state can be achieved.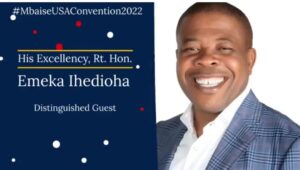 At the Mbaise USA Convention in Santa Clara, California, H/E Emeka Ihedioha addressed large gatherings of a cross section of Imo state citizens, with the majority, of course, being indigenes of Mbaise. He consistently delivered the same message in all the Townhall meetings, including Los Angeles, on July 10, 2022. We express our special appreciation to everyone who assisted with the planning, organization, attended and/or facilitated the proceedings at these successful Townhall meetings including, Barrister Anselm Okorie and Dr. Uche Bonny-Life Ndu
At all these meetings, His Excellency, Rt. Hon. Emeka Ihedioha never campaigned against any political party or candidate, including H/E. Mr. Peter Obi, the former Governor of Anambra State and presidential candidate of the Labour Party. Anyone claiming otherwise is trading in calculated misinformation. No audio or video clip exists of any speech by H/E Emeka Ihedioha disparaging H/E Peter Obi or encouraging those present not to vote for him, even though both men belong to two different parties,
A post by Prof. Uzodinma Nwala on a WhatsApp platform managed by Edward Oparaoji, an Mbaise born United States based doctor of pharmacy (Pharm.D), alleged that he (Prof. Nwala) heard that H/E Emeka Ihedioha engaged in the demarketing of H/E Peter Obi in the United States.
While all of us are entitled to our freedom of speech, the circulation of a "hearsay" and provably mischaracterized and unprovable statement with roots traceable to a WhatsApp platform managed by an Mbaise indigene, irrespective of causative factors, is highly regrettable.
The motive and timing of these social and print media assaults on Mbaise's frontline politician defy rational explanations. Mbaise USA just concluded a record-shattering convention in California. The convention had record-breaking funds raised during the tradicultural Ichi Oji, which Mbaise Association of Maryland (MAM) under the leadership of Dr. Peter Akwuole won the trophy with $14,000.00. The total average funds raised in past conventions hovered around $30,000.00. But this convention recorded over $73,000.00. Attendance during the Leadership summit surpassed previous summits. For the first time, Mbaise USA and Mbaise Leadership Forum partnered with Stanford University for a Leadership Seminar that will continue to benefit our brothers and sisters in Nigeria and other parts of the world.
All the affiliate chapters were represented except two chapters – one could not make it for health reasons while Prof. Jeff Ohanaja's Houston Cultural did not attend due to their financial delinquency. Our gala night was exceptionally phenomenal. The convention celebrated our NFL mega star who spoke on the floor of the Convention and made a generous donation of $15,000.00. The pride of Mbaise and business mogul, Barrister Njoku, made a huge donation of $50,000.00. Our Chairman, Dr. Ugwuibe motivated and enlightened us with his powerful speech and capped it with a huge donation. Ntozuoke for our youths was a huge success. The unity, brotherhood, sisterhood, peaceful deliberations, and resolution of the land for building a first of its kind medical city in Mbaise were some of the distinguishing hallmarks of the convention.
We should be celebrating these huge milestones and successes. It is very embarrassing that people who were absent during the Convention are promoting and allowing these falsehoods to trend. Some pertinent and worrisome questions are:
1. Do they want to obfuscate and muddle the celebration of the most successful Convention in the history of Mbaise USA?
2. Do they want to attenuate the gallant efforts, excellent leadership and visionary initiatives by those who put together the best Convention in the history of Mbaise USA?
3. Do they want to discourage H/E Rt. Hon. Emeka Ihedioha from attending our future conventions?
4. Do they want to diminish the person and political fortunes of Mbaise's frontline politician?
5. Who is sponsoring these vicious character assassination and media assaults on Mbaise, Mbaise USA and H/E Rt. Hon. Emeka Ihedioha?
6. Are they attempting to sow seeds of discord between H/E Peter Obi and H/E Emeka Ihedioha?
7. Could all these mischaracterizations not be correctly construed as the hands of Jacob but the voice of Esau?
8. Will there be a winner when the dust settles?
All those who attended any of the townhall meetings have testified that H/E Rt. Hon. Emeka Ihedioha maintained the following four Cardinal Points in his Discussions:
1) *His brief experience as governor of Imo State and his achievements.*
2) *The effects of the Supreme Court decision on him, Imo State, and Nigeria.*
3) *The current economic situation and debt burden of Imo State.*
4) *Implications of the 2023 elections in Imo State, and the importance of electing a Prudent and Trusted leader.*
*For the records: H/E Rt. Hon. Emeka Ihedioha will be in Dallas in July, 2023 during our 14th Annual National Convention.*
The noise emanating from peddling these unprovable and definitive innuendos is making more people interested in Mbaise USA. More people are requesting for our 2023 Convention invitation. H/E Emeka Ihedioha's supporters are more motivated and energized than ever, to defend a decent man who has been unjustly framed and targeted for political cannibalization by those who were not present either in Houston or in California when he delivered his speeches.
Mbaise will be the overall loser if these divisive tendencies are not completely extirpated because Mbaise unity may develop big cracks, which cynics are praying for. The distrust emanating from these wounds will leave irreparable scars on their destructive paths.
I had an extensive and productive conversation with Prof. Nwala. Efforts are being made to resolve all these peacefully. Prof. Nwala is a retired octogenarian professor who was goaded by professional liars, and who as described in 1 Timothy 4:2, have lied so well and for so long that they have lost their capacity for truth. These liars are audaciously disobedient to the following injunction; "Do not be a witness against your neighbor without cause, and do not deceive with your lips," as instructed in Proverbs 24:28. I respectfully ask all our social media and WhatsApp platforms moderators and administrators to control their platforms. Mbaise should be trending for good but definitely not for falsehoods and the political destruction of our frontline politician and other worthy ambassadors. Everyone should please sheath their swords.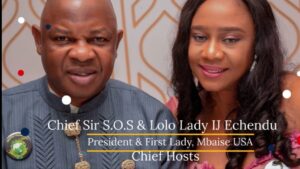 Mbaise is a microcosm of the generality of Ndigbo. We are not monolithic in culture, politics, ideology, beliefs, and philosophical inclinations. We, as Mbaise indigenes and other Nigerians alike, have inalienable rights, including constitutionally protected freedom of association, choice of political preferences, affiliations and predilection towards certain individuals. No Nigerian should be victimized, harassed, threatened, subjected to incongruous paternalistic anachronism, and malicious moral vandalism for exercising his guaranteed constitutional and legally protected rights.
Making any candidate's political journey a particular ethnic group's affair may backfire. No ethnic group lives in a vacuum within the Nigerian geopolitical space. It will be good for all of us, as Nigerians, to look before we leap. Nigeria will be better served when we focus more on competence, negotiations, strategic political alignments and realignments, paradigm shifts, and rational permutations, to avoid preventable but consequential political miscalculations, as a group of people. Emotive effusions are good but politics is a game of numbers. We must all be on the lookout for Bradley effect or the phenomenon of social desirability bias, shy Tory factor, and spiral of silence theories. If they are real in the United States and Britain, they may be real in their consequences in Nigeria.
Remain blessed.
Sir SOS Echendu, KSC.
President, Mbaise USA.
18th July, 2022
—————————————————————————————————————————————
Your help to our media platform will support the delivery of the independent journalism and broadcast the world needs. Support us by making any contribution. Your donation and support allows us to be completely focus, deeply investigative and independent. It also affords us the opportunity to produce more programmes online which is a platform universally utilised.
Thank you.
Please click link to make – DONATION