ENDSARS PROTESTS AND KILLINGS IN NIGERIA: A CALL FOR UNITY AND PEACEFUL COEXISTENCE BY NIGERIA DIASPORA LEADERS IN THE UK
Nigerian Community leaders in the UK, concerned about the military killings, chaos, confusion, looting and destruction of lives and property in Nigeria have held an emergency meeting on the 22nd of October 2020.
Reviewing the #EndSARS: Nigerian protest against police brutality, the leaders expressed support for Nigerian youths who have genuine reasons to protest against police brutality and bad government policies.
The leaders agreed to the following:
1. Expressed their support for the #EndSARS campaign and remind the government of the right of every Nigerian to come together with others to peacefully express their views, take part in marches, protests and demonstrations.
2. Condemn in very strong terms, the army shooting, attacks and forceful disruption of peaceful #Endsars Protesters at Lekki Toll Gate on 20/10/20 in Lagos resulting in significant casualties and loss of lives. That action was the lowest moment in Nigerian history and affront to the fundamental human rights and freedom of association of Nigerians.
3. Expressed their condolences to the families of innocent and unarmed #Endsars Protesters so far killed especially during the army shooting at the Lekki Toll Gate on Tuesday 20/10/20 as well as all those killed extra-judicially in Nigeria over the years by SARS and police brutality.
4. Share and support the objectives of peaceful #Endsars youths protest demanding immediate end to police brutality and good governance and a better society in Nigeria and enjoin the Federal Government, the States and Local Governments and all leaders to listen and learn from the yearnings of the united Nigerian youths involved in this protest.
5. Condemn anarchy, arson, looting, rampage and wanton destruction of private properties, public utilities, institutions and facilities. Condemn acts of destruction of people's shops and looting of properties. These acts are not acceptable and negate the vision of the #Endsars movement.
6. Call on all hoodlums to stop immediately any further acts of vandalism in the East, South, West and North of Nigeria. Enough is enough.
7. Call on the Federal Government to set up urgent judicial panel of inquiry into the army shooting of peaceful protesters and all forceful disruptions of the peaceful #Endsars protest. All security agencies must avoid use of force against the peaceful youth #Endsars protest in Nigeria. The Federal Government should set up a special fund to support the families of all those killed and maimed in the #Endsars protest across the country.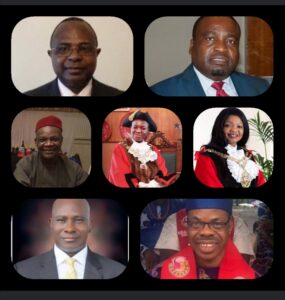 8. Remind Nigerians that the #Endsars protest has no ethnic or religious connotations. The protest was a spontaneous and united peaceful movement by all Nigerian youths to press for a change in the affairs of the nation. 'We commend their unity of purpose very highly with appreciation'.
9. Call on all Nigerian youths to remain peaceful, united and coordinated and not allow themselves to be divided along ethnic or religious lines by people who do not wish them well and by those with their own hidden agenda.
Signed:
1. Dr Boma Douglas,
Chairman Central Association of Nigerians in the Uk, CANUK.
2. Chief Bimbo Robert Folayan
Former Chairman Central Association of Nigerians in the Uk, CANUK.
3. Chief Anthony Ajiduah
Former President Ohanaeze Ndigbo Uk & Northern Ireland
4. Chief, Dr, Mrs, Kate Anolue
Former Double Mayor of Enfield, London Uk
5. Cllr Susan Fajana Thomas
Former Speaker of Hackney Council
6. Mr Omusa Ohyoma
First Vice Chairman NIDO UK South.
7. Dr Nnanna Igwe
President Ohaneze Ndigbo Uk & Northern Ireland
Convener of Peace Meeting
—————————————————————————————————————————————
Your help to our media platform will support the delivery of the independent journalism and broadcast the world needs. Support us by making any contribution. Your donation and support allows us to be completely focus, deeply investigative and independent. It also affords us the opportunity to produce more programmes online which is a platform universally utilised.
Thank you.
Please click link to make – DONATION