By Festus Fifen.
Worried by ongoing 'illegal' development on a green area in their neighborhood,
residents of Zuru Close, Emeka Anyaoku Street, Area 11, Garki Abuja have appealed to the FCT Minister, Mallam Muhammad Musa Bello to intervene and rescue them from the illegal development in order to save them from impending danger and also save the environment from destruction.
Speaking to Newsmen recently who visited the site of the development, Mr. Ayodele Olayinka who spoke on behalf of 15 other petitioners said that the controversial green area is a tiny piece of land seemingly sitting on a drainage system, close to the road which the developer intends to turn to an estate
Further investigations reveal that the right of occupancy on the said land is issued in favour of one Abel Y. Behora, with file number AD6118 and plot number 1218.
We also reliably gathered that, regrettably, the allottee has been able to obtain almost all necessary titles to enable him build an estate on the tiny piece of land at a junction earlier designated for green area and is obviously unsuitable for such development.
Petitioning the FCT Minister for revocation of the plot, Olayinka who is the spokesperson for the neighborhood, suggested possible replacement for Behora in a suitable place to avert disruption of peaceful coexistence among neighbours and preservation of the environment.
In his words, " We are appealing to the FCT Minister, Mallam Muhammad Musa Bello, to step in and do something due to overriding public interest. Yes, we know the allocation wasn't made during his time, but he can prevent the looming destruction of peace and safety of lives, as well as property of those already living here and equally save the ecosystem by preserving this endangered green area.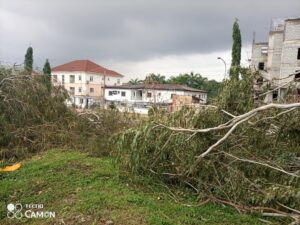 "But the surprising thing is that this man has necessary approvals for development and also approval from Parks and recreation Department to fell the trees which obviously has been there for decades as part of the preservation of the environment.
"If the green area was erroneously allocated to him, the Minister could revoke it and if it pleases him, allocate another land for him so that all the money he has spent trying to do something on this land will not be lost completely. We also feel it, it's not that we have anything against him, we are only against what he wants to do here because it will affect all of us negatively."
While Emphasising the importance of the green area, Olayinka disclosed that some of the trees were medicinal and people came from neighbouring places to pluck, even as he wondered why one person's interest should override public interest.
Narrating their ordeal, Olayinka said: "I moved to Zuru Close in 2006 and met this place as a green area, with trees big enough for one to believe it was a green area. But suddenly, in 2011, somebody came that the place had been allocated to him and we told him that the place ought not to be a place for buildings to be out on.
"We took the matter to the FCT Urban and Regional Planning Tribunal. While we were there, before judgement could be delivered, he said he wasn't going to abide by it so he deserted. He later went to another court, we didn't even go to that court with him, then he came with a judgement against us, and he said we were busy body.
"We kept quite. He went to another court to ask the court to restrain us from stopping him when he moved to site, and we had to go to the court to defend ourselves.
"At the end of the day, the judgement was delivered
in his favour -that the place was allocated to him by government therfore, he has the right to develop the place, moreso when he has been able to get approval from the Federal Capital Territory Administration's department of Development Control.
"Our lawyer had filed for appeal of the judgement and stay of execution. Next, he reported us to the Police that we were trespassing on his land, conspiring to kill him. Eventually, we went there, I think the Police didn't see any sign that we were people described as he had made us to look. At the end of the day, the Police told us that we should make sure we don't make trouble with him if he comes to this place.
"So the next thing we saw was that he came with the Police on 13th of August, 2020 and fell all the trees you see on the ground."
Olayinka also recalled: "He initially came here twice with people from the department of Parks and Recreation. Parks and Recreation withdrew. He came again one time with SARS and people from private tree felling organisations, they had to withdraw too, but yesterday, he was escorted by the Police, so since we were told not to interfere any more, we decided to let them have their way."
Also speaking more on the expectation of his neigbours, he said: "What I would have seen as the ideal thing is that, in some nations, they are even trying to develop green areas where they don't exist.
"These trees served as windbreakers, they also beautify the place and replanish the environment, and I think that government should promote greening instead of felling trees so much public fund has been used in planting and tending to so recklessly.
"I think that government should have intervened and prevent a green area from being pulled down and replaced with buildings with an a allocation to one person, even when about 16 of us that reside here, and even those who are staying at adjourning locations. If the Minister does not save us, we are going to suffer some loss as a result of him alone having this place.
"This development if allowed to go on will also negatively affect view of those driving from Ile Ife Street and entering Emeka Anyaoku Street, disrupt the drainage system, and impact negatively on the sewer system in this area, among other facilities."
Our further findings from relevant FCTA departments revealed that all title documents for the contested area were genuine, thus making them unable to move in and prevent the planned development, except with intervention from the FCT Administration.
—————————————————————————————————————————————
Your help to our media platform will support the delivery of the independent journalism and broadcast the world needs. Support us by making any contribution. Your donation and support allows us to be completely focus, deeply investigative and independent. It also affords us the opportunity to produce more programmes online which is a platform universally utilised.
Thank you.
Please click link to make – DONATION