——————-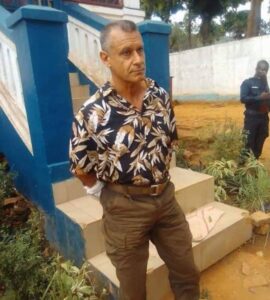 A French national has been arrested in African in connection to supplying and arming terrorist groups.
The Police have arrested a French national accused of supporting and arming rebels in the volatile region of Central African Republic.
He accommodation during a search exposed a cache of weapons and ammunition the authorities said.
The French citizen named Mssr Juan Remy Quignolot, of 55 years old was arrested and detained on Monday.
According to Attorney General Eric Didier Tmabo, Other items found in his place are bank notes, military fatigues and technology gadgets.
The arrest is on the hill of heated relationship between country and its  former colonizer France which comes on the face of Bangui increased Diplomatic relationship with Russia.
Though government spokesman, Ange M Kazagui confirmed that the arrest has nothing to do with Jean's nationality as a French citizen.
—————————————————————————————————————————————
Your help to our media platform will support the delivery of the independent journalism and broadcast the world needs. Support us by making any contribution. Your donation and support allows us to be completely focus, deeply investigative and independent. It also affords us the opportunity to produce more programmes online which is a platform universally utilised.
Thank you.
Please click link to make – DONATION