—————————————
The Yoruba people are a native West African ethnic group that inhabit western Africa, spread across the world and mainly in the parts of Nigeria, Benin, and Togo that constitute Yorubaland. They are more than one hundred widely known with arts, cultures, educational pursuits amongst others.
The Akure Kingdom is a traditional state with headquarters in Akure, the Ondo State capital, in Nigeria. It is the successor to an ancient Yoruba city state of the same name. The ruler bears the title "Deji of Akure".
The location climate is hot and humid, which is influenced by rain-bearing southwest monsoon winds from the ocean and dry northwest winds from the Sahara Desert. In this season of rain and sowing, and the UIefunta Festival, the people led by the Paramount ruler gathered to honour one of the most recognised personality in the country. An entrepreneur per excellence and former Minister of Education in the country, Olorogun Barrister Kenneth Gbagi.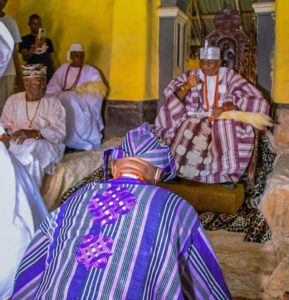 The Royal Father of the day and Kingdom, Oba (Dr) Aladetoyinbo Ogunlade Aladelusi, Odundun II bestowed on Olorogun the new title as the Aare-Atunluse of Akure Kingdom for his contribution to human development and enterprise management initiatives in Nigeria.
Barrister Kenneth Gbagi is a frontline governorship aspirant in Delta state, oil rich state in the Niger Delta area of Nigeria.
The Ulefunta Festival has a historical and cultural significance.
—————————————————————————————————————————————
Your help to our media platform will support the delivery of the independent journalism and broadcast the world needs. Support us by making any contribution. Your donation and support allows us to be completely focus, deeply investigative and independent. It also affords us the opportunity to produce more programmes online which is a platform universally utilised.
Thank you.
Please click link to make – DONATION