______________
Delta Governorship Aspirant, Honourable Olorogun Gbagi Bags Orugba of Idjerhe Kingdom.
As the season of year 2021 coming to end, no one in the beggining will have said these much accolades and recognitions on Barrister Kenneth Gbagi. But such is the fortune of this giver that his name is speaking volumes across the country.
As politics and parties continued to put their structure and ideas together, Delta State an oil rich region is seeing one of the governorship aspirants ahead of the 2023 elections and a former Minister of Education, Olorogun Kenneth Gbagi, receiving awards and traditional titles with the recently conferred title of Orugba of Idjerhe for the development brought to the zone and areas.
The chieftaincy title which was conferred on him by the Ovie of Idjerhe Kingdom, HRM King Obukohwo Monday Arthur Whiskey, Udurhie I, was to appreciate him for his outstanding developmental strides in the Kingdom and as an indigene maternally.
Conferring the title, "Orugba", meaning 'performed completely", King Whiskey, noted that the governorship aspirant was a man of distinction, who had distinguished himself in all the positions he had held, praying God to imbue him with more grace to excel in his ambition and the higher ones to come in the future.
He explained that he was using the opportunity God had given him as the custodian of the people's culture and tradition to do what was right in the sight of God and people by honouring the business mogul who he described as a worthy son of Idjerhe Kingdom.
According to the King, "during my coronation, Gbagi brought a lot of gifts to me and he had done a lot of things for the development of Idjerhe Kingdom. As a renowned businessman and entrepreneur, his business facilities and structures have created employment for many in Delta and beyond."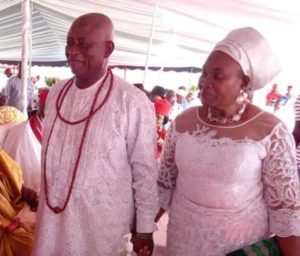 The King urged Olorogun Gbagi whose paternal grand mother and mother hailed from Idjerhe to continue with his good work for the Kingdom, adding that there was always a reward for every good deed.
Olorogun Gbagi in his speech thanked the monarch for the honour, saying that he accepted the title because of the long relationship he had with the palace and the people of the Kingdom.
He added that he was elated for the rare honour, saying that the honour would motivate him more in his drive to see a better Delta State and Nigeria in general.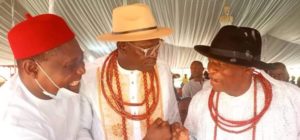 An elder statesman, Olorogun Edwin Obofukoro, who accompanied Olorogun Gbagi to the ceremony, thanked the monarch and the good people of the Kingdom for honouring the governorship aspirant, adding that the gesture would encourage and motivate the youth to aim high and strive for excellence in their respective fields of endeavour.
"We thank you for bringing out an illustrious son of Nigeria for this honour because among his peers, he is a man of grace," he stated.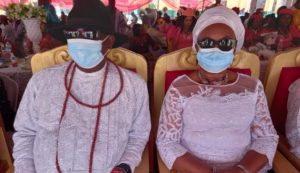 Describing the governorship aspirant as an eagle, he stressed that "Gbagi, as a businessman, he is a navigator, an aerodynamic wonder and a well-known international entrepreneur. The Ovie did not make a mistake in selecting him for such a coveted title."
"Ovie, you picked a man of vision, he is fearless and says the truth as it is. He cares for the youth and places ladder for people to climb to success', he added.
The ceremony which coincided with the one year coronation anniversary the Ovie of Idjerhe Kingdom, HRM King Obukohwo Monday Arthur Whiskey, Udurhie I, was attended by HRM Matthew Egbi, Owawha III, Okobaro of Ughievwen Kingdom, HRM King Duku II, Orovworere of Effurun-Otor Kingdom, HRM Noble Eshemitan, Ovie of Oghara Kingdom, HRM Major General Felix Mujakperuo, Orodje of Okpe Kingdom, HRM S. P. Luke, Kalanama VIII, Pere of Akugbene-Mein Kingdom, HRM Bosu Dio, Ebenana-Owei Iduwini Kingdom, Representative of HRM Oboro-Gbaraun II, Pere of Gbaramatu Kingdom, High Chief (Elder) Oyagha PJ Heavens, Senator Ovie Omo-Agege, represented by Chief Paulinus Akpeki, Chief Barr. Emmanuel Ganiga, immediate President, UPU UK, Olorogu Kingsley Esiso, PDP Chairman, Delta State, Chief James Augoye, former Commissioner for Works and Delta State Governorship aspirant.
Chief and Chief Mrs. Edwin Obofukoro, Hon. Eugene Inoaghan, Chairman, Sapele Local Government Area, Dr. Janet Oyubu, former APC women Leader, Delta State, HRM Emmanuel Sideso, Abe I, Ovie of Uvwie Kingdom, HRM Emmanuel Okumagba, Ovie of Okere-Urhobo Kingdom, Rt. Hon Roland Igbakpa, Member representing Ethiope Federal Constituency in the House of Representatives, Rt. Hon. Halims Agoda, Olorogun John Nani, Executive Director of Finance, DESOPADEC, Chief Oscar Akpojene, Hon. Oghenero Owoso, Chairman, Ethiope West Local Government Area, Chief Hope Erute, President General of Uvwie General Improvement Union, Deaconand Deaconess Solomon Ala, SSA to the Governor, Hon. Luckyson Oniyan, Mr. Moore Ologitere and many others.
—————————————————————————————————————————————
Your help to our media platform will support the delivery of the independent journalism and broadcast the world needs. Support us by making any contribution. Your donation and support allows us to be completely focus, deeply investigative and independent. It also affords us the opportunity to produce more programmes online which is a platform universally utilised.
Thank you.
Please click link to make – DONATION