History is made today 5th May 2022 as the former governor of Ogun State and a serving Senator in Nigeria, Senator Ibikunle Amosun, declared for the Presidential slot under the ruling party.
In a carnival liked event, Abuja the federal capital witnessed hundred of diverse cultural people in colourful outfits, musical performances and representatives of elected members arriving the completely overhauled Shehu Musa Yaradua Centre, Abuja.
The venue has never gone through such decorations and designs. It was a major one, huge creativity of minds and indeed a first of any presidential declaration in such a way with narratives of leadership direction.
Nigerians from all over the country and abroad were in attendance. An event that had who's who in the country.
In attendance were his wife, Dr. Olufunso Amosun, the representative of the First Lady, Aisha Buhari, a representative of former Head of State Olusegun Obasanjo, Governor of Ekiti State, Kayode Fayemi, a former Deputy Governor of Lagos State, former governors, senators, and house of representatives lawmakers, political parties' leaders, Ambassadors among others.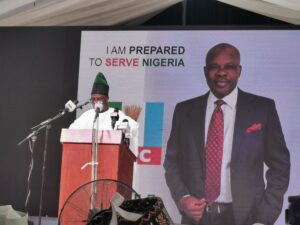 Senator Amosun wearing a white flowing babanriga and a green cap in his normal design declared his intention to run just a few minutes past 1:00 pm to the admiration of thousands around the venue.
The former governor Ibikunle Amosun, promised to prioritise health, education, human security, and other six noted policies direction as "fundamental principle", if elected as president in 2023 through securing the ticket of the APC.
Amosun added, "Putting human security at the forefront and approaching human security as the directive principle of state policy would imply that the two dominant goals of my leadership would be national security and economic development.
"Today, I am formally announcing my candidacy for the Presidential ticket of our great party, the All Progressives Congress and the Presidency of the Federal Republic of Nigeria.
"I do so conscious of the immensity of the tasks that lie ahead in our country and the magnitude of the sacrifices that anybody who wishes to lead our country into the next phase must make.
"This is to honour a historic call and duty to lead the next phase of our collective journey to national glory. It is a duty to reenergise our faith in the future of this country even in the face of the threats to our national sovereignty by insurgents and terrorists; a duty to renew hope in our collective destiny even in the light of some doubts expressed and mobilised in some quarters about our shared fate."
The Governor of Ekiti, Dr. Kayode Fayemi spoke glowingly of the relationship and capacity of Amosun as a leader just like other serving Senators said about his generous mind and leadership strategies of good governance.
The All Progressives Congress presidential ticket primaries will take place from May 30 to June 1, 2022 all things being equal.
More soon
—————————————————————————————————————————————
Your help to our media platform will support the delivery of the independent journalism and broadcast the world needs. Support us by making any contribution. Your donation and support allows us to be completely focus, deeply investigative and independent. It also affords us the opportunity to produce more programmes online which is a platform universally utilised.
Thank you.
Please click link to make – DONATION