Double Celebration for HRH Iseghohimen aka King Brutus in South Africa.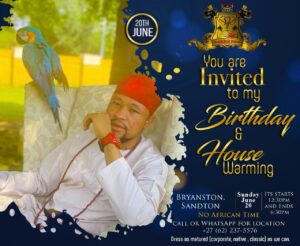 The word of God teaches us to number our days so that we can apply our hearts to wisdom. That is the reason why the rich, the famous and powerful Nigerians in South Africa have decided to felicitate with HRH D.A Iseghohimen, the Aigbogbakhe Eni of Enel 1, as he celebrates his birthday with a house warming at Royal River Palace, Bryanston Sandton, South Africa. What a double celebration!
As one of the well established and popular figures from Nigeria based in South Africa, HRH Iseghohimen is worthy of emulation and celebration.
He is one of the few successful Nigerian entrepreneurs in South Africa who has built a legacy through hardwork, humility and selfless service to his people.
HRH Iseghohimen runs one of the best auto care companies in South Africa and many who know him know that he is actively involved in his business and can do anything to satisfy his customers.
It will be recalled that Edo State Education Board commended his sterling leadership and humanitarian activities in Imule Primary School in Esan part of Edo State to compliment the effort of the state government in providing quality education. Top notch Nigerian professionals, entrepreneurs and celebrity journalists led by Adeniyi Ifetayo of Ben TV London are expected at the palatial mansion to celebrate HRH D.A Iseghohimen, popularly known as King Brutus in South Africa.
—————————————————————————————————————————————
Your help to our media platform will support the delivery of the independent journalism and broadcast the world needs. Support us by making any contribution. Your donation and support allows us to be completely focus, deeply investigative and independent. It also affords us the opportunity to produce more programmes online which is a platform universally utilised.
Thank you.
Please click link to make – DONATION