The London Diplomatic Ball consisting of Diplomatic societies of Oxford University, London School of Economics, Cambridge, University College London and Kings College took place on Saturday 5th March 2022 at De Vere Grand Connaught London 61- 65 Great Queen Street, London WC2.
It was a gathering of aspiring future Diplomats from top 5 UK universities numbering over 700. The theme was "Decolonization of Diplomacy" and the guest motivational speaker was Ambassador Sarafa Tunji Isola – High Commissioner of Nigeria to UK.
In his speech, Ambassador Isola spoke about the national aspirations, national values and the national interests of Nigeria.In addition, he spoke on Foreign policy thrusts consisting of Economic Diplomacy, Citizens Diplomacy, Cultural Diplomacy and Parliamentary Diplomacy.
Ambassador Isola dwelt on Nigeria's Regional and Global interests particularly in ECOWAS, AU, COMMONWEALTH. He also laid emphasis on Nigeria's strategic partnerships with EU, G20, G77, D8 – thus leading to collaboration on the issues of Climate change, Migration, Security, Defence, Poverty Alleviation, African stability, Economic development and Integrated projects.
He shared field experiences as a High Commissioner of Nigeria to UK particularly on the issue of returned artefacts, Sustained engagement, Red listing on account of Omicron variant of COVID19, Networking, Chancery Management, Consular and Education, Bilaterals, COP26, Global Education Summit, Interaction with Chatham House, Commonwealth activities, Personal attributes and carriage amongst other things.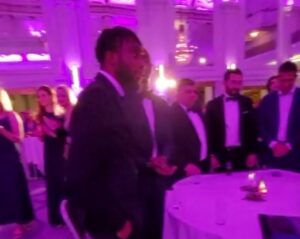 After his speech, which was applauded with a loud ovation, Ambassador Sarafa Isola further interacted with the future Diplomats personally for further inspiration and mentoring.
In conclusion, Ambassador Isola encouraged the future Diplomats to take cognisance of the Dark Arts of Diplomatic Technique as espoused by Charles Crawford – a former UK Ambassador to Bosnia, Herzegovina, Serbia and Poland. They are:
1. Never assume, always check.
2. Thank you letter.
3. Be nice and helpful to junior officials of your host.
4. Focus on what exactly happen on the day.
5. Have a strong smart team, especially on Protocol.
6. Admit mistakes and problems quickly.
—————————————————————————————————————————————
Your help to our media platform will support the delivery of the independent journalism and broadcast the world needs. Support us by making any contribution. Your donation and support allows us to be completely focus, deeply investigative and independent. It also affords us the opportunity to produce more programmes online which is a platform universally utilised.
Thank you.
Please click link to make – DONATION