———————
THE COALITION OF UNITED POLITICAL PARTIES (CUPP) TODAY IN ABUJA PRESENTED ON THE CRITICAL STATE OF THE NATION, THE FAILURES AND INCOMPETENCE OF THE APC AND PRESIDENT MUHAMMADU BUHARI AND THE NEED FOR NIGERIANS TO GIVE THE OPPOSITION A CHANCE TO REVITALIZE NIGERIA AND PUT HER BACK ON THE PATH OF GROWTH AND DEVELOPMENT THIS 6TH OCTOBER, 2021
Speech
Protocols
Dear Nigerians and Gentlemen of the Press
We in the opposition family welcome you again to the Opposition House after a long while as we set out again to hold the government accountable for the mismanagement of our country, its economy, security and indeed every other facet.
For over a year now, I have not spoken to you in my official capacity as the opposition coalition cupp Spokesperson, this was because I lost I lost my voice while I was been held in illegal detention on the instigation of the APC govt and the indicted Speaker of the House of Representatives Femi Gbajabiamila when we rejected their anti people agenda, I lost absolute control of my voice chords(Doctors both in Nigeria and abroad are in agreement that I must have come in contact with some very poisonous substances while in detention).I have visited several specialists who by the special grace of God have tirelessly worked on my throat and restored my voice to this extent. This is our first outing since that time and I will continue to manage it until it gets fully restored .It feels good to be back.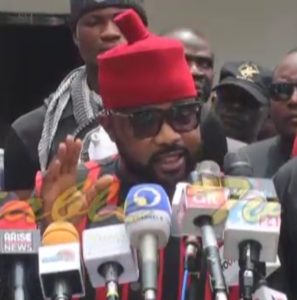 In 2015, Nigerians voted in President Muhammadu Buhari and the APC believing that our economy will get stronger, insecurity and corruption wiped out . But 6 and a half years after, the economy has totally collapsed and the lives of Nigerians are now so cheap that the government does not show empathy anymore. With every available data from the National Bureau of Statistics and corroborated by experts, Nigeria is now broke and fast sliding into a failed state.
In 2015, the APC shouted to the high heavens that insurgents and terrorists had taken over and controlled large expanses and territories of Nigeria, up to the size of Belgium but today, very hungry Nigerians are in shock that insurgents, bandits, terrorists and kidnappers are now in firm control of Nigerian territory as large as Hungary. Hungary is at least three times the size of Belgium. The worst part is that the government is so confused and does not know what to do. These terrorists have advanced close to the Federal Capital Territory, Abuja and are in firm control of entire Local Government Areas just in neighbouring Niger State and the government continues to grope.
All telecommunication signals have been cut off in the entire Zamfara State and almost all of Kaduna State. This has made it practically impossible for communities under attack to call for any type of help whatsoever leading to the killing of entire villages and communities which are discovered long after the terrorist bandits have left. Legitimate businesses have been banned in several communities, livelihoods have been destroyed and there is no commensurate action by government to safeguard the lives of citizens living in their communities.
Katsina State Government which is the President's own home state has lost total control of almost half of its 34 Local Government Areas to these bandits. Niger State which has common boundary with Abuja has lost some Local Government Areas. Sokoto State is now also under attack. It must be stated that these areas were very peaceful before the coming of the APC and President Muhammadu Buhari. Most of the territories in the North East which were also recovered before the 2015 election which brought APC and President Buhari to power have also fallen back into the hands of the terrorists. The entire national security architecture has collapsed and Nigeria is daily losing the war despite the trillions of Naira spent by this government on the security situation.
Virtually all schools and educational institutions in many parts of Northern Nigeria have been shut down. Keeping our children uneducated is the surest way to keep them poor and also fastest way to make them possible recruits for these terrorist bandits. Health facilities are non-functional as Resident Doctors who have been on government instigated strike for over two months have just resumed yet our President jets out abroad to go for routine medical checkup, an affirmation that he knows that the country lacks the capacity to provide basic health services. Businesses have been shut down and life is becoming unbearable for millions of citizens.
Farmers in Nigeria now find it extremely difficult if not impossible to go to their farms again leading to the skyrocketing of prices of very basic food commodities. Yet we have a President who instead of admitting his failure was blaming imaginary middlemen. Pure water is now N20! Are middlemen also to be blamed for the 100% increase in the price which has remained at N10 for the past 14 years?
President does not even understand the problem facing the country; hence h does not have the solution or an idea of what the solution looks like. The bad policies, misapplication of funds, corruption and looting and the lack of ideas and incompetence of the President are responsible for the worsening economic situations of the country.
Dear Nigerians, corruption is at a scale never contemplated or seen in our nation's history even during the most corrupt Abacha regime. Unbridled corruption has become the order of the day in our public life. There is seemingly a race among officials of this ApC government to know who would loot the most. Almost all former office holders in our country who have pending criminal charges against them have all crossed over to the APC to have their sins against our country forgiven them. It is on record that the APC has so played Ping-Pong with the war against corruption which it inherited in 2015 to the extent that till date, no member of APC who was a former office holder has been charged to Court including states like Zamfara, Imo, Osun, Nasarawa etc which were ravaged by their former Governors who are members of the APC. Again, it is on record that this APC government despite their deceitful claims to Nigerians that they would fight corruption has till date not successfully prosecuted any former office holder for corruption. Nigerians can testify that there is no more public sector anti-corruption war being discussed anywhere. EFCC is now only chasing yahoo yahoo boys yet our public officials daily line their pockets with our common patrimony without fear.
There is a wise saying that says, Show me your friends and I will show you who you are! Nigerians are please invited to see who the friends of President Muhammadu Buhari and the APC are. Their friends are the same persons who looted the country dry and who were charged to court by the previous government and those who are also currently looting the country dry. The more you loot, the closer you are to the seat of power in Aso Rock and the closer you get to President  Buhari. There are now more public officials in APC who are billionaires than businessmen who are billionaires. The worst of Nigerian looters are now in APC and are regularly rewarded with party tickets for Governorship and Senatorial elections, ministerial appointments, juicy board appointments, party positions, and multi billion Naira contracts.
What a shame! I repeat what a shame! A very big SHAME!
So much for the Change mantra and tripod promises of President Buhari on which he was elected in 2015. What a shame! So much for the next level agenda on which President Buhari returned himself to power in 2019. What a shame that citizens who voted President Buhari in 2015 and 2019 and who were able to feed themselves and their families cannot even be sure of a single meal a day. What a shame that people who were gainfully engaged making money and feeding their families now see banditry and kidnapping as the only source of making money to feed their families. What a shame! What a shame! What a very big shame!
The plot to derail 2023 election.
As imperfect as our election was in 2015 and despite the supreme sacrifices many Nigerians have paid in our elections including Youth Corps members, women and children, it is on record that even till date, as  regime of President Muhammadu Buhari is gradually coming to an end , he has not made one single contribution to improvement of the electoral process. In his first tenure, he refused to sign amendments to the Electoral Act solely for selfish electoral reasons and even while the current controversy rages on the issues of the electronic transmission of results being included in the Electoral Act and being demanded by vast majority of Nigerians, the President has kept dishonourable silence while his Party the APC, using their forced majority has insisted that Nigerians cannot see improved electoral processes. What a shame for a Party that won election from the opposition.
That is why we were alarmed when we intercepted credible intelligence that the APC Leaders  has resolved as a first option to derail the 2023 general election by ensuring that the Electoral Act amendment process will not be completed before the 2023 general election or in the alternative where the pressure from Nigerians is much, they would harmonize the Bill but they would never allow the electronic transmission of results. The information at our disposal includes the alleged late night exchange of 'incentives' to some members  of the National Assembly in the Harmonization Committee to see to it that the electronic transmission of results does not see the light of the day. This is an insult on the sensibilities and sensitivities of the Nigerian people noting that this process of Electoral Act amendment commenced since 2016 and has not been completed 5 years after. They have agreed to drag this process and get up to their next year's annual vacation by which time, whereupon a claim that by the ECOWAS treaty electoral laws cannot be amended less than six months to elections, the process will terminate like they did for the 2019 election but this time with possibility of throwing the country into constitutional crisis.
On electronic transmission of results we stand and that position is immutable. Nigerians want it; INEC is ready for it and has declared it has capacity for it yet APC wants to derail our democracy and subject the activities of INEC, a constitutionally independent body to the political whims and caprices of Nigerian Communications Commission and Mr. Isa Pantami, a man of questionable past! We warn the National Assembly members that God will condemn them and humanity will condemn them if they doctor the Electoral Act amendment process and remove the electronic transmission of results or if they refuse to complete this process within a reasonable time.
Opposition declares  Buhari regime a total failure
It is clear from the foregoing that President Muhammadu Buhari has  over this past 6 and a half years emerged the most incompetent, inept, divisive, unskilled, unimpressive, uninspiring, and divisive President in our history. President Buhari lacks basic understanding of the issues in handling a multicultural, multiethnic and multireligious country such as Nigeria. His level of nepotism is second to none and his narrow-mindedness is legendary.
The current agitations and heightened insecurity in the South East, South West, South South, North West and the Middle Belt are direct consequences of the failure of President Buhari and his inability as well as incapacity to lead. The hate, sectionalism, nepotism and divide and rule system of 97% and 5% with which President Buhari has presided over this country since 2015 are at the foundation of these agitations. Indeed this government has failed and it has failed woefully in all ramifications.
A failed parliament
However, worse than the above fact that President Buhari is a failed leader, is that the  National Assembly(9th Assembly)is populated by political Alleluia Boys who are approving and sanctioning everything from the Executive. They are the laughing stock in the international community. We hereby put Nigerians on notice that they will yet again approve the current loan request pending before them from the President. Even when the Nigerian debt burden is at its worst levels ever, rising up to over N33 Trillion, this National Assembly leadership will still approve the request for further borrowing.
Even when the government cannot account for and Nigerians cannot identify what these numerous loans have been used for, national Assembly will still approve for more. Just recently, the Vice President Prof Yemi Osinbajo, in a bid to undeservedly praise the government, claimed that they have invested about N8.9 Trillion in infrastructure but he forgot that the government has borrowed over N33 Trillion which it claimed were all borrowed for infrastructure! We ask; What has the government done with the balance of over N25 Trillion it borrowed? You all know as I know that all that money has been looted!
Nigeria's external loans have risen by 366% since 2015 and President Muhammadu Buhari who is still borrowing till today does not have a credible repayment plan. Nigerians must know that for every N1000 Nigeria makes today, N980 is used for payment of debts. Which country can survive under such conditions? What a shame! Nigeria now spends more on debt servicing than on health and education combined. Due to incompetence of the President, there has been an actual decline in the country's revenue. In 2020, the total revenue of government was just about N3.4 Trillion despite all the increases in the prices and cost of every government service whereas in 2015 total revenue of government was N5.43 Trillion. Oil prices were higher in 2020 than it was in 2015 yet revenue was declining. Nigeria is suffering the cost and consequences of the incompetence of one man by name President Buhari  and the corruption of a political party, the APC. Clearly, President Muhammadu Buhari is running a Molue Economy that is 44 sitting, 99 standing.
Impeachment of Senate President and Speaker .
We call on the opposition members in the National Assembly to work in alliance with patriotic members who are imprisoned in the APC and seeking liberation to commence action and impeach the President of the Senate, Senator Ahmad Lawan and the indicted Speaker of the House of Representatives Mr. Femi Gbajabiamila immediately. Any further delay will occasion irreversible damage to the fabrics of our country. These two men have reduced the once respected parliament to house of Political Alleluia that exist for the purpose of running errands for President Buhari and endorsing all his failed agenda.
Both men have failed to guide their colleagues to act as checks and balances to the Executive rather both they and their allies in the Parliament are in a struggle on who will serve President Buhari and the APC more than they would serve Nigeria and have proven beyond reasonable doubt that they do not mean well for Nigeria. Their interests are less than noble and patriotic and it is best for Nigeria to stop them now before the destruction gets worse.When we resisted the emergence of Gbajabiamila, we did that because we know that a man indicted for dishonest act in the USA cannot stand up to checkmate a regime that is acting in breach of the law. Everyday Gbajabiamila presides as Speaker,the parliament is ridiculed becuase it is a taboo for a man caught in dishonesty to be making law for honest people. Senate President Lawan and indicted Speaker  Gbajabiamila have not only reduced but completely removed the bar of the law making process. Lawmakers are no longer respected and are ignored even when they officially summon officials of the Executive.
When this mission of change in the leadership of the National Assembly is accomplished, the first duty of the new leadership will be to ensure the removal of President Muhammadu Buhari from office immediately by way of impeachment before he completes his agenda of finally disintegrating and destroying our country. Nigeria is tending towards irreversible damage if the National Assembly allows President Buhari to continue in office for the remaining 19 months of his tenure, there may not be a Nigeria for our children. Bandits and terrorists are emboldened by his crass failures to continue their onslaught on innocent Nigerian citizens. If a cosmopolitan State like Kaduna which houses over a dozen military and security formations can collapse to the inferior firepower, manpower and training of these motley ragtag bandits, then it clearly shows that this fish is rotten in the head.
Impeachment of President buhari
It is in view of these that the opposition, having come to the unassailable conclusion that the President has abused his office, grossly misconducted himself, exhibited lack of  capacity to remain in office and failed in his primary duty as enshrined in S14 of the 1999 Constitution that the security and welfare of the people is the primary purpose of government and such failure renders the government useless to the people,  has filed an action before the Federal High Court seeking order of mandamus to compel the National Assembly to perform its constitutional duty and investigate the President over several accusations and allegations of gross misconduct and carry out their constitutional role and impeach President Buhari and his willing ally Osinbajo, so that the nation can go for early election and start the rebuilding process.
The APC led govt is a  threat to the peace and unity of the country. Nigerians must reject them and reject them now as a matter of national interest. They must never come back to power except we have all resigned to allowing them destroy our beloved country as they represent everything that is a threat to the survival of one Nigeria. But we will not rest . Nigerians will take back our country through lawful and democratic means. It has become all the more clearer that one can steal a presidential mandate but cannot steal the capacity to govern.
Gentlemen of the press, all economic indices are worse than they were in 2015. Quality of education and health services are worse than they were in 2015. Corruption, insecurity and impunity are worse than they were in 2015. The economy has shrunk; debts have risen astronomically while government clearly has not shown any signs that they know what they are up against. It is on these bases that the Nigerian opposition calls on the Nigerian media to stop being silent.  We say, stop being neutral as this country belongs to all of us. There will be no separate Nigeria reserved for gentlemen of the Press if we allow President Buhari to destroy Nigeria due to his incompetence. Speak now or we all will be refugees in our country when these criminal elements and bandits take over.
We also call on the Civil Society, workers groups, youth groups, market women, students' bodies and indeed all Nigerians to begin in line with earlier meetings, mass mobilization for a citizen's national day of civil actions. It has become imperative that citizens democratically express themselves in a civil process and say enough is enough as posterity would inquire of what we all did to save the country when the rampaging regime was in power. Details of the action shall be made public in due course upon conclusion of all consultations. Citizens must join hands now to ensure a better society for us all.
The job of salvaging Nigeria is not only the job of the opposition. Every citizen must get involved. Every citizen who has lost a loved one due to the insecurity in the land, every citizen who cannot feed his family due to the dwindling economy, every citizen who cannot get basic government services including healthcare and education due to the unbridled corruption in this government, every citizen who has one sorrowful tale or the other due to the incompetence of the APC must come out now.
Under the watch of President Buhari and APC, Nigeria has become the poverty capital of the world. Under the watch of President Buhari and APC, Nigeria became the unemployment capital of West Africa with over one third of its work force out of job. Under the watch of President Buhari and APC, Nigeria infamously remains as the third most terrorized country in the world even worse than war-torn countries taking us back to the Hobbesian state when life was nasty, brutish and short. Under the watch of President Buhari and APC, Nigeria became the world capital of open defecation, sending the country back to the Stone Age. Should it get worse before we speak?
Finally, we thank God for healing and believe that we will continue to get better. We also thank Nigerians who have been bracing the suffering and hardship imposed on them by President Buhari and the APC for keeping the peace. We urge them to ignore the movement of politicians from other parties to the APC as those are not in their interest. Politicians who believe they have not made money since their election are moving to the APC so they can steal money and those who had stolen are running into the APC to get cover as the APC is the platform where looters are given national honours and not prosecuted. Many of them have seen that at the rate the country is declining, it would not take long before it collapses hence many of them need to grab what they can for themselves and their families so they can jet out if the engine of the country stops.
We also thank men of the Nigerian security forces who have built a wall of defence around us to defend what they can within the available resources, when the opposition takes over, their lot will be improved and they can even be sure of having to spend time with their own families.
The ongoing reorganization in the opposition family offers strong hope for our country. A new and appealing crusade will soon be launched which most Nigerians will buy into once these internal issues are resolved within the opposition family. When the opposition takes over in 2023 with the votes and support of the Nigerian people, we will be coming to heal a broken nation. We will be coming to unite Nigeria, repair the economy and make it once again a viable and growing economy. We will be coming to secure our country and set a new agenda. We will be coming to restore and build a nation where peace and justice shall reign. We will be coming to build a country  all  ethnic groups will believe in and work for its progress. Nigerians should have faith, continue to register and collect their PVC's so that by the ballot we will chase the invaders away. The time of the locust will soon be over.
We call on members of the opposition family to stand firm, both those in the Parliament, in party leadership and in all works of life. Nigerians are firmly behind us, only bidding their time to lawfully vote the opposition as this government has failed completely. This is the reason why President Buhari and the APC do not want electronic transfer of election results and the reason why we must insist on it.
Thank you all and may God bless Nigeria.
Ikenga Imo Ugochinyere
Opposition Coalition Spokespersonn
—————————————————————————————————————————————
Your help to our media platform will support the delivery of the independent journalism and broadcast the world needs. Support us by making any contribution. Your donation and support allows us to be completely focus, deeply investigative and independent. It also affords us the opportunity to produce more programmes online which is a platform universally utilised.
Thank you.
Please click link to make – DONATION