By Festus Fifen.
The Nigeria Federal Capital Territory Administration Minister of State, Dr. Ramatu Tijjani Aliyu, has publicly received her second dose of the COVID-19 vaccine, just as she called on residents to follow suit.
The exercise was witnessed by Newsmen and the Ag. Secretary of Health Dr. Muhammed Kawu and some other close relatives of the minister.
In Statement by her Media Assistant, Austin Elemue, The minister used the occasion to commend the turnout of residents since the commencement of the medical exercise. She however, revealed that the FCT Administration has vaccinated over132,000 residents in the first round and about 12,000 recorded in the second round.
In her words, "I wish to also encourage all residents to check their cards, for those who have taken their first jab, after 40 days or 6 weeks you are qualified for a second jab.
"Please turn out in mass to take the second jab, there is nothing wrong with it and you will only be better and free to transact business and do every other thing across the world".
While fielding questions from journalists on the allegation that the vaccine was capable of causing infertility in both men and women, the minister stated that though every vaccine has its own adverse reaction, but it not true that the COVID-19 vaccine could lead to infertility.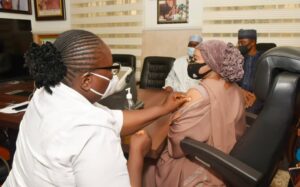 In her words; "Well there are always vaccine reactions, but that does not mean that it is true. We know it is not true, so just come out and be encouraged to take your vaccination.
"The question of bearing children lies in the hands of God, and in any case who is promising you that if you don't take the vaccine you will get children? Well it's left for you to judge".
Others vaccinated include the minister's husband, Alhaji Tijjani Aliyu, top Directors of the Administration and her political aides.
—————————————————————————————————————————————
Your help to our media platform will support the delivery of the independent journalism and broadcast the world needs. Support us by making any contribution. Your donation and support allows us to be completely focus, deeply investigative and independent. It also affords us the opportunity to produce more programmes online which is a platform universally utilised.
Thank you.
Please click link to make – DONATION