By Victor Alade
As the curtains draw close on the remarkable journey of the 9th Senate at the Nigeria National Assembly, it is only fitting to acknowledge the outstanding contributions and unwavering commitment of Senator Michael Opeyemi Bamidele to the success and growth of this distinguished assembly. Representing Ekiti Central Senatorial District, Senator Bamidele has been an integral part of the 9th Senate, leaving an indelible mark on the legislative landscape of our great nation.
HITHERTO, MAKING THE SENATE WORK
When the 9th Senate was inaugurated, it faced an enormous task of overcoming the perception of being a "rubberstamp" to the Executive. However, Senator Bamidele, with his exceptional leadership and unwavering dedication, played a pivotal role in stabilizing, adding value, and legitimizing the Senate as an independent and effective arm of government.
His immense contributions have been instrumental in transforming the Senate into a proactive and robust institution that diligently carried out its legislative duties.
As the outgoing Chairman of the Senate Committee on Judiciary, Human Rights and Legal Matters, Senator Bamidele has played a critical role in advancing the cause of justice and human rights in Nigeria. He has also championed several bills that have had a direct impact on the lives of Nigerians, including the Whistle blower Protection Bill, the Family Support Trust Fund Act (Repeal and Re-enactment) Bill, and the National Human Rights Commission Act (Repeal and Re-enactment) Bill, among others.
Senator Bamidele was instrumental in the passage of several other crucial bills that have impacted positively on the lives of Nigerians, including the Constitution of the Federal Republic of Nigeria, 1999 (Alteration) Bill, 2019, and has made significant contributions to other bills such as the Tertiary Education Trust Fund Act (Amendment) Bill, 2020.
Throughout his tenure, Senator Bamidele displayed an unparalleled commitment to fostering good governance and accountability. His sponsorship and support of numerous bills, such as the Public Private Partnership Bill, 2021, demonstrated his unwavering resolve to drive economic growth, create employment opportunities, and enhance the welfare of Nigerians. His deep understanding of the legislative process and his ability to build consensus among his colleagues further solidified his reputation as a trusted and influential lawmaker.
A BASTION OF HOPE FOR A NEW NIGERIA.
As we usher in the 10th Senate, Senator Michael Opeyemi Bamidele track record and experience make him a formidable force for progress and stability. His active involvement with the Stability Group, a coalition committed to promoting inclusivity and diversity in the Senate leadership, further underscores his dedication to ensuring balanced representation for all citizens.
With his vast knowledge, exceptional leadership acumen, and unwavering commitment to service, Senator Bamidele is poised to play a crucial role in the success of the incoming Senate. His ability to bridge divides, foster unity and promote good governance positions him as a beacon of hope in steering Nigeria towards a prosperous and inclusive future.
Beyond the walls of the Senate, Senator Bamidele has been a champion of youth empowerment and women's rights. Through his various empowerment initiatives with which he provides scholarships to indigent students, he exemplifies his commitment to education and human capital development.
The Iyin Ekiti born Senator understands that investing in the youth is crucial to unlocking the potential of our great nation and creating a sustainable future.
Senator Michael Opeyemi Bamidele's illustrious contributions to the 9th Senate have been nothing short of remarkable. His unwavering dedication, progressive mindset, and commitment to the Nigerian people have left an indelible mark on the legislative landscape.
As the 10th Senate takes the reins, we have every confidence that Senator Bamidele's visionary leadership will continue to inspire and drive positive change in Nigeria.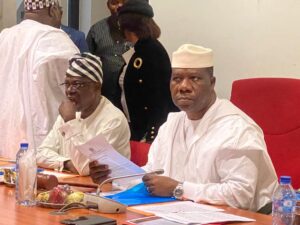 Let us celebrate Senator Michael Opeyemi Bamidele, a pillar of progress in the 9th Senate, and support his unwavering commitment to building a prosperous, inclusive, and united Nigeria.
-Victor Alade writes from Akure, Ondo State
—————————————————————————————————————————————
Your help to our media platform will support the delivery of the independent journalism and broadcast the world needs. Support us by making any contribution. Your donation and support allows us to be completely focus, deeply investigative and independent. It also affords us the opportunity to produce more programmes online which is a platform universally utilised.
Thank you.
Please click link to make – DONATION