Delta state shines as Justice Sybil, celebrates her elevation in Nigeria's Appeal Court. 
Nigeria's President Muhammadu Buhari had few months ago approved the appointment of 18 Court of Appeal justices for the country.
Among the newly appointed justices who were recommended and interviewed by the National Judicial Council to the President at its 94th meeting had the first woman in it from Delta State, one of Nigeria's oil rich states.
The rising and newly appointed justice is Justice Sybil Olorogun Gbagi, a season and top legal icon. She's well noted globally for her advocacy especially on women's empowerment.
Justice Sybil Gbagi, is also the wife of a former Minister in Nigeria, a man renowned and recognised to have built more lasting institutions in Nigeria as a minister, and now a frontline politician not to be ignore, in the person of Barrister Olorogun Kenneth Gbagi.
The family are primed and ready to hold a thanksgiving event in commemoration and appreciation of the approval and elevation in their the country.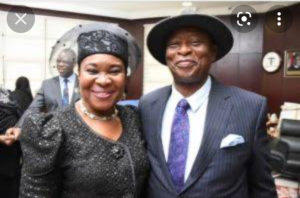 The thanksgiving is taking place Sunday 5th September 2021 in Oginibo, Ughelli South Local Government Area, and is expected to have many Nigeria's leaders, icons of industries, and international friends.
The town and people are all ready to welcome guest to the country home of Barriater Kenneth Gbagi, a governorship aspirant come 2023 election. 
—————————————————————————————————————————————
Your help to our media platform will support the delivery of the independent journalism and broadcast the world needs. Support us by making any contribution. Your donation and support allows us to be completely focus, deeply investigative and independent. It also affords us the opportunity to produce more programmes online which is a platform universally utilised.
Thank you.
Please click link to make – DONATION