By Festus Fifen
As the Nation enters into the mood of end of year celebrations, an Abuja based group, Helpline Foundation For The Needy has provided about 450 widows and vulnerable people with assorted gifts and life saving entrepreneurial skills as a way of positively boosting their celebration
The beneficiaries prior to this time were also trained in different skills, like shoemaking , bags, Soap, Cake, and other forms of sustainable skill acquisition from the free training organised to empower them.
The President and and Founder of Helpline Foundation, Dr. Jumai Ahmadu who spoke over the weekend in Abuja at a  fiesta orgainised for the beneficiaries, said about 450 people were selected from 3 states and the FCT to be part of this year's reachout event.
Dr. Jumai Ahmadu disclosed that this year's celebration marks the 19th anniversary of the Foundation, which has been adjudged to be one of the most impactful outings of the foundation.
She noted that the beneficiaries were not just invited to come and pick up free food stuff and other gifts, but to showcase products from their specialized skills acquisition training.
According to her, over the years, her Foundation with the support of different donors, have ensured that widows and other vulnerable youths, were guided to make wise economic decisions that will stand the test of time.
She added, the beneficiaries of the free entrepreneurial training have not just become financial pillars to their immediate families, but sources  of inspiration to others around them.
She said, " We have 450 beneficiaries, these are beyond Abuja, but even Kogi, Nasarawa and Niger states.
" This is the 19th edition of Helpline Foundation For the Needy Abuja End of the Year reach out to widows and vulnerable women and other groups .
" We are here today also basically to make them show to us what they have been able to acquire between January and December 2022. Because We brought them together to help them acquire some skills, so we want to see what they have learnt by making sure they exhibit what they have been taught over the period of their learning skills.
" We also want them to have fun during this yuletide season. Some were trained in shoe, bag, soap, cake making and many other things. Some of them were also taught how to start a business with zero naira, as well as package somethings within their environment".
"For the 19 years of our existence, it has been personal efforts and contributions from friends and family. The only foreign intervention we got is from the MacArthur Foundation and that one is specific to only Abuja Residents which cannot accommodate others outside abuja.
One of the beneficiaries of the training name withheld presented her twin babies delivered during the training period to Dr. Ahmadu. The babies a boy and a girl named Jumai and Ahmadu in honour of the founder of Helpline foundation for the needy was her way of showing appreciation to Dr. Ahmadu for her support.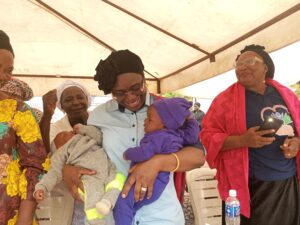 Dr. Jumai Ahmadu used the medium to thank the media for their partnership and support over the years especially in helping to showcase the activities of the foundation since inception.
—————————————————————————————————————————————
Your help to our media platform will support the delivery of the independent journalism and broadcast the world needs. Support us by making any contribution. Your donation and support allows us to be completely focus, deeply investigative and independent. It also affords us the opportunity to produce more programmes online which is a platform universally utilised.
Thank you.
Please click link to make – DONATION