BREAKING: EDO DIASPORA SUPPORT GROUP (EDSG) DONATES MANSION OF SUITES & OFFICES TO PETER OBI-DATTI YUSUF, LABOUR PARTY
Free Party Membership Card for All!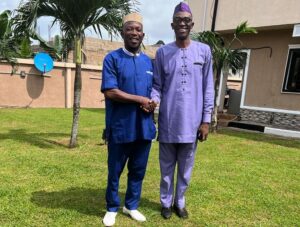 Left: *Comrade Tony Akeni Le Moin*, Global Coordinator of Nigeria Cannot Continue Like This (NCC-LIT, pronounced NCC-LIGHT) with Labour Party national chairman, *Barr. Comrade Julius Abure* (Right), at the Le Patriot Hotel in Benin City, Edo state, this morning.
The workaholic national chairman of Labour Party, Barr. Comrade Julius Abure, is on a multi-layer duty tour of the South-South to inspect and verify facilities and mass mobilization architecture of frontline Peter Obi patriots and activists across the South-South geopolitical zone, his own zone of the country.
For those who think otherwise, the Edo state born Abure, a man of fate, silent fire and fortitude, is working underground round the clock on the Peter Obi Hurricane 2023 Nigeria Polls Revolution for a better Nigeria.
Among other oncoming activities concluded in the exclusive meeting today is the arrangement to takeover a palatial mansion of suites and offices just donated to Peter Obi-Yusuf Datti Presidential Campaign by Canada based patriot, *Osazuwa Eribo (Ozee)*, through Comrade Tony Akeni. The donation of the mansion in Benin City is on behalf of North America based Edo indigenes' support organization for Peter Obi & Yusuf Datti, *EDO DIASPORA SUPPORT GROUP (EDSG)*, whose global convener is Edo born international human rights activist, *Dr. Brown Arisco Osemwengie*.
Also concluded was arrangement for a visit by Peter Obi and the national chairman of Labour Party to Las Vegas, USA, later this year to grace a special solidarity convention by Edo indigenes in the US under an international polls enhancement mobilization initiative led by Barr. Jude Osagie, the highly respected international business mogul, hotelier and owner of Precious Palm Royal Hotel, Benin city.
In his chat with Comrade Tony Akeni and Chief Patrick Eholor who hosted the meeting at his Le Patriot Hotel in Ugbor GRA part of Benin this morning, the Labour Party national chairman expressed his joy and gratitude for the attitude and altitude of commitment by Edo indigenes to the Peter Obi-Datti Yusuf election revolution, stating that they made him very proud of his state of origin.
He added, "I encourage the Osemwengies, Osazuwas, Osagies, Arenokhales and Okoduwas of Edo state all over the world to pull out all the stops for the Peter Victory in 2023."
He thereafter directed that he would either be personally on ground at the handover of the EDSG's mansion for Labour Party's retreat and meetings or he would have a frontline leader of Labour Party in the state, Chief Patrick Osagie Eholor, also known as Ultimate Equals, and the state chairman of the party, Comrade Kelly Ogbaloi, to represent him and Peter Obi at the handover occasion by the Diaspora group.
*Free Party Membership Card for All!*
The Labour Party national chairman, Comrade Julius Abure, also broke the news this morning that for millions of Nigerians all over the country who have been anxious about registration as former or new members, there was no cause to worry.
According to him, magnanimous OBIdient Nigerians have donated adequately for the production and free issuance of millions of Labour Party membership cards to all and sundry.
Explaining further, Abure remarked, "Labour Party is in the kitchen cooking many new and exciting political cuisines for Nigerians. When we eventually serve the table and our craft hits the tarmac, which is very soon, our difference against other political parties will be clear even to the blind, deaf and dumb."
He continued, "It will be clear that a true, people caring and compassionate national political tent which provides shade and shelter for all has come to our shores. It will be seen that a party which does not choke the poor and does not seek to milk money out of every situation, a political party such as has never been seen before in Africa, has come to stay."
—————————————————————————————————————————————
Your help to our media platform will support the delivery of the independent journalism and broadcast the world needs. Support us by making any contribution. Your donation and support allows us to be completely focus, deeply investigative and independent. It also affords us the opportunity to produce more programmes online which is a platform universally utilised.
Thank you.
Please click link to make – DONATION