Exclusive to see where your business investment or country is rated.
From our sources and supplemented by Spendmenot, below are the top five companies in the world 🗺 2020.
Worth examining for investors and entrepreneurs seeking which area or field to explore for their next business' move.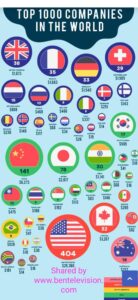 1. This technology company known as Apple Inc. is currently the biggest company and occupies spot number one in the world with a market cap of $1.172 trillion.
(Source: Koyfin)
The brand Apple Inc., was established in 1977 by now Late Steve Jobs and Steve Wozniak. They're most famous for designing both the software and hardware of their computers. They are the owners of iPod and iPhone.
The company's headquarters are in Cupertino, California. Apple was also the first member of the highly exclusive trillion-dollar companies club.
What are you first in and or what will you be known for?
Their market value has increased by 36% in the last 12 months which includes during the covid-19 pandemic.
2. Coming behind Apples is another technology company in the name of Microsoft Corporation. They are second in the world with a market cap of $1.101 trillion. Also American.
(Source: Value)
Microsoft by Harvard College students Bill Gates and Paul Allen was established on 4th April 1975. This global computer tech company licenses, produces and supports dozens of computer companies. software products and other apps devices. When you see Windows OS and Microsoft Office to always remember that is Bill Gates.
Even though the company was first started in Albuquerque, New Mexico, it was moved to the State of Washington in 1979. The company has been stationed in Redmond, WA since 1986.
Microsoft stockholders have seen their value increased in the last 12 months by more than 156% during the period and pandemic season too.
3. The third biggest company in the WORLD is Alphabet Inc. with a market cap of $902 billion.
(Source: Value)
Before you wonder who they are, this third-largest company in the world is the parent company behind Google, YouTube etc. They are very strong in and likely the biggest in R&D.
Stanford University students, Larry Page and Sergey Brin founded Google in 1998 in Menlo Park, California. One unique thing is that the pals remains in charge of Alphabet Inc. till now.
Alphabet Inc. shares didn't gain more compared to others and slightly exceeds 25%.
4. The next company was started in 1994 by Jeff Bezos. The fourth biggest company in the world is Amazon with a market cap of $887 billion.
(Source: Value)
E-commerce King Amazon.com based in Seattle, Washington, changes the online shopping. They market and sells everything.
According to our research, Amazon acted as either as a mediator between sellers and buyers or selling their own products directly and making more as direct sellers of their products.
The stocks and shares climbed to 18.6% in value during 2019.
Finally in our top 5 companies in the world is the mother of all diverse products and services from retail, insurance, imports, candy production, vacuum cleaners, footwear, jewelry sales, and uniform products.
Media items such as newspaper publishing, utilities, electrical and other services and they are Berkshire Hathaway.
5. Berkshire Hathaway Inc has a market cap of $545.7 billion.
(Source: Value)
They are one of the world's most valuable companies, based in Omaha, Nebraska. It is the oldest in the list founded in 1839. Even Coca-Cola is part of them.
Share with us the top companies in your field or country by emailing bentelevisionuk@gmail.com
—————————————————————————————————————————————
Your help to our media platform will support the delivery of the independent journalism and broadcast the world needs. Support us by making any contribution. Your donation and support allows us to be completely focus, deeply investigative and independent. It also affords us the opportunity to produce more programmes online which is a platform universally utilised.
Thank you.
Please click link to make – DONATION