————————————
As Nigeria's President Muhammadu Buhari flies out of the country, has directed the incorporation of a new company in the name of Nigerian National Petroleum Company Limited, according to news from the Villa.
Mr. Femi Adesina, Special Adviser to the President (Media and Publicity), in a statement issued today issued. Except: – as the statement mentioned, "This is in consonance with Section 53(1) of the Petroleum Industry Act 2021, which requires the Minister of Petroleum Resources to cause for the incorporation of the NNPC Limited within six months of commencement of the Act in consultation with the Minister of Finance on the nominal shares of the Company."
Mr Mele Kolo Kyari who is the Group Managing Director of the NNPC, authorised to take necessary steps in ensuring the incorporation of the NNPC Limited.
As part of the Board and Management appointments are the following according to the release statement and approved by President Muhammadu Buhari with effect from the date of incorporation of the company.
Senator Ifeanyi Ararume as Chairman of the Board
Ifeanyi Godwin Ararume born is a Nigerian politician. He is the Senator representing Imo North at the 9th Nigerian National Assembly. He was elected Senator for the Imo North constituency of Imo State, Nigeria at the start of the Nigerian Fourth Republic, running on the People's Democratic Party platform.
Born: 16 December 1958 (age 62 years), Imo, Nigeria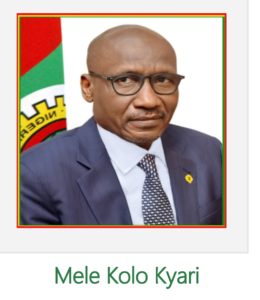 Mr. Mele Kolo Kyari Chief Executive Officer
Mallam Mele Kyari comes to the job with a very rich oil and gas industry experience spanning over 27 years. A 1987 graduate of Geology and Earth Science from the University of Maiduguri, the incoming GMD served as a Well Site Geologist with the Directorate of Foods, Roads and Rural Infrastructure (DFRRI) between 1987 and 1988 under the National Youth Service Corps.
Thereafter, he worked with the Nigerian Geological Survey Agency between 1988 and 1991 before joining NNPC as a Seismic Data Processing Geophysicist in the Data Processing Department of Integrated Data Services Limited (IDSL) in 1992.
He also made his mark as a labour union leader when he served as the NNPC Group Chairman of the Petroleum and Natural Gas Senior Staff Association of Nigeria (PENGASSAN) from 1997 to 1999.
He was later appointed as Exploration Geophysicist, Production Sharing Contract (PSC), at the National Petroleum Investments Management Services (NAPIMS) in 1998 from where he was made the Head of NAPIMS Operations in Abuja in 2004. In 2006, he was appointed the Supervisor PSC, Crude Oil Marketing Department (COMD) of the NNPC, from where he rose to the position of Head, and later Manager of Production Contracts Management of the COMD between 2007 and 2014.
Mr Kyari was appointed General Manager Oil Stock Management, COMD where he worked till 2015 when he was appointed Group General Manager, COMD and later Nigeria's National Representative at OPEC.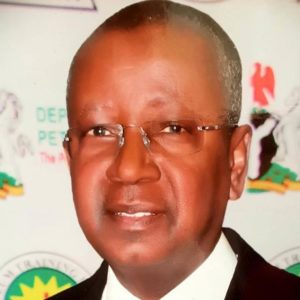 Umar I. Ajiya – Chief Financial Officer
Umar Ajiya holds a B.Sc Accounting from Ahmadu Bello University Zaria, Nigeria in 1987 and MBA from the Lagos State University, Nigeria in 1998. Ajiya has about 30 years' experience in oil and gas sector.
Umar Ajiya holds a B.Sc Accounting from Ahmadu Bello University Zaria, Nigeria in 1987 and MBA from the Lagos State University, Nigeria in 1998. Ajiya has about 30 years' experience in oil and gas sector.
He started his working career in1987 at Peugeot Automobile in Kaduna State, Nigeria where he took part in the madatory National Youth Service Corp (NYSC) after which he joined Elf Petroleum Nigeria Limited (now Total Nigeria) in 1988 before leaving in 1991 to work as part of the pioneer staff of Nigeria LNG Limited (NLNG).
Whilst at NLNG, he held several Managerial positions including that of Manager Treasury, Finance Manager of BGT and then Marketing & Business Development Manager of NLNG.
Ajiya joined the service of NNPC as General Manager Commercial with the LNG Division under the Gas & Power Directorate of NNPC. He was responsible for the development of a business that led to the establishment of NNPC LNG Limited, a holding company for the NNPC's interest in the LNG Marketing Joint Ventures. Furthermore, he was the pioneer MD of West Africa LPG Limited, a trading Joint Venture between NNPC and Ocean Bed Limited, which now owns its own LPG vessel built and delivered in 2016 by HMD Shipyard Korea.
Mr Ajiya was appointed the Group General Manager Corporate Planning & Strategy (CP&S) of NNPC in March 2016. Key achievements of Mr Ajiya as the Head of NNPC CP&S was the Transformation and the development of new business models for NNPC Autonomous Business Units and the resuscitation of the NNPC Price Review Committee which ensures value protection through appropriate and competitive pricing of NNPC crudes, derivatives and products. Mr Ajiya became the Managing Director of Petroleum Products Marketing Corporate (PPMC), a subsidiary of NNPC in July 2017. Since his appointment, he has initiated and executed several reforms which transformed the company into a viable and profitable commercial entity. Notably include products price optimization, Business Process Review, SAP implementation, sales automation, Legacy debt reduction, commercial reorientation, effective stakeholders' management strategy as well as unprecedented revenue and profit growth leading to a declaration of profit in 2018 for the first time in its history.
Following his remarkable success at the helms of PPMC, Mr Ajiya was appointed the Group Executive Director (GED) Finance and Accounts; the Chief Financial Officer of NNPC in July 2019. Presently, Mr Ajiya is championing the restructuring of the NNPC Group Balance Sheet towards a full commercialization of NNPC in the wake of the Nigerian Petroleum Industry Bill 2020 aimed at broader oil and gas industry reform including commercialization of NNPC.
Other Board Members are;
Dr Tajudeen Umar (North East),
Dr. Tajudeen Umar is a Petroleum Geologist with some 30 years' experience in the oil and gas industry. He has held several positions in the public and private sectors ranging from purely technical to management and executive.
His last position in the public sector was that of Executive Chairman, Nigeria-Sao Tome and Principe Joint Development Authority. He also doubled as Executive Director, Monitoring and Inspections, of the same organization while serving as Chairman. He is presently an independent oil and gas consultant with business interests in various sector of the economy, specifically the Bank Note Industry.
He was first appointed a member of the NNPC Board in 2016 and reappointed to the Board in June 2020.
Mrs Lami Onayi. Ahmed (North Central)
Board Member – Nigeria National Petroleum Corporation LTD
​Mrs. Lami Onayi Ahmed has over 30 years working experience covering the entire value chain of the oil & gas industry.
Her quest for educational pursuit and continuous personal development has seen her bag three master's degrees in Physiology, Business administration and Social work.
Mrs. Ahmed is a successful businesswoman and philanthropist who is involved in several charity endeavours and humanitarian services across the country. She is an avid golfer with extensive interests across business, social work and politics.
She was appointed to the Board of the NNPC in June, 2020.
Mallam Mohammed Lawal (North West)
Mallam Mohammed Lawal is an Engineering Procurement Specialist with over 35 years' experience covering Design and Maintenance Engineering, Engineering Procurement (Supply Chain Management), Public Policy Administration and Politics.
This has seen him function meritoriously as a director in several public and private organizations across the country.
Mallam Mohammed who was reappointed to the NNPC Board in May, 2020 has been a board member of NNPC since 2016. He has extensive interests in politics and business. His hobbies include traveling, reading, photography, aviculture amongst others.
Senator Margaret Chuba Okadigbo (South East)
The Senator Margery is the wife of late Senator Chuba Wilberforce Okadigbo. Margery's husband, Chuba, was first elected to exactly the same position in 1999 and became the Senate President the same year following the impeachment of Evans Enwerem, who lasted only a few months in office, in November 1999.
She made history as the first woman to sit on the same seat as her husband in the senate. She was a member of the seventh National Assembly on the platform of the Peoples Democratic Party (PDP)
Mrs. Margery Okadigbo had represented the people of the area in the upper legislature from 2013-2015.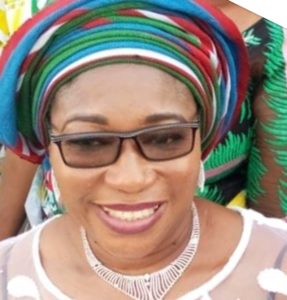 Barrister Constance Harry Marshal (South South)
Barrister Constance is a seasoned legal personality and comes from the Harry Marshall family. She was a former Coordinator in Rivers State for the Project 4+4 Rivers State Chapter. An advocate of women's empowerment in Nigeria. She is few national boards where she provides management consultations from her legal background.
Chief Pius Akinyelure (South West)
Chief Pius Oluwole Akinyelure is a certified accountant and oil industry technocrat. Following a 35-year career in both the Upstream and Downstream Sectors of ExxonMobil from where he retired as Executive Director, Finance & External Relations, he has continued to maintain interests across business, industry and politics.
His hobbies include travelling, listening to music, networking and philanthropy.
He was first appointed a member of the NNPC Board in 2016 and reappointed to the Board in June 2020.
—————————————————————————————————————————————
Your help to our media platform will support the delivery of the independent journalism and broadcast the world needs. Support us by making any contribution. Your donation and support allows us to be completely focus, deeply investigative and independent. It also affords us the opportunity to produce more programmes online which is a platform universally utilised.
Thank you.
Please click link to make – DONATION