---
Philanthropy or philanthropic is of a person or organization seeking and doing something to promote the welfare of others; generous and benevolent.
"they receive financial support from philanthropic bodies or contribute fund from their own business resources and from other means to support others".
It is with this calling that after recently hosting the Vice President of Liberia in Lagos, the legacy drive of ACTDF President continues down the northern part of Nigeria, precisely a trending state of Benue.
Engr. Noah Dallaji, President of the African Children Talent Discovery Foundation (ACTDF), was hosted first by a new partnering organisation by Eunice Spring of Life Foundation setup by the First Lady of the state, Her Excellency Eunice Erdoo Orton in Makurdi, the capital.
The VISION of the ESLF is to build a society without barriers to decent living with a call mission to work with the poor and vulnerable towards poverty reduction, improved health, education and agricultural services, by networking and partnering with relevant stakeholders.
This vision and mission is in line of ACTDF mantra to support talents and youths across Africa.
The special visit by the executives to Benue state ended with the Governor His Excellency Samuel Ortom recognising the contribution of Dr. Noah Dallaji in supporting and changing the lives of many across the country evidently seen and read across various platforms.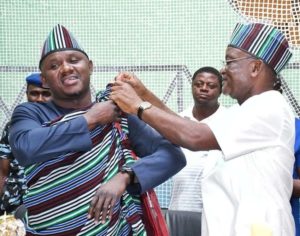 The Governor presented and gave the ACTDF President a citizenship of the state and to other members of the entourage which included former National Nigeria's Super Eagles players such as Emmanuel Babayaro, Tijani Babangida, and Hon Konda amongst others.
—————————————————————————————————————————————
Your help to our media platform will support the delivery of the independent journalism and broadcast the world needs. Support us by making any contribution. Your donation and support allows us to be completely focus, deeply investigative and independent. It also affords us the opportunity to produce more programmes online which is a platform universally utilised.
Thank you.
Please click link to make – DONATION