———————–
A Nigeria's former Minister of Education that built more than ten legacy universities has done it again this time from the private sector he is known for before politics.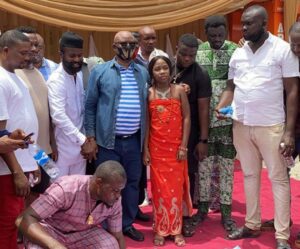 Honorable Barrister Kenneth Gbagi today Easter Friday in Warri, Delta state commissioned an enterprising business complex.
His business complex which comprises of more than 400 individual retail shops and units was a joy to thousands of entrepreneurs, startups, and retailers.
This venture might be seen by others as a move towards his People's call for 2023 election in the state.
The complex plaza is situated on Deco Road built 25 years ago and commissioned as long as that.
Today's event is inline with his sanitization and launching the newly ultra modern facility in the mall to cater for the satisfaction and wellbeing of clients and customers, another empowerment opportunity.
To all of that is the glamour, the glory and the joy that over 3,000 persons daily source their livelihood from this mall.
Apart from the newly commissioned project, Hon Gbagi continue handling cases on pro bono basis for the less privileged in the state and supporting the diverse communities by putting up appropriate structures.
https://www.instagram.com/p/CNKXoIkM9Yd/?igshid=1ifljq3lznzha
—————————————————————————————————————————————
Your help to our media platform will support the delivery of the independent journalism and broadcast the world needs. Support us by making any contribution. Your donation and support allows us to be completely focus, deeply investigative and independent. It also affords us the opportunity to produce more programmes online which is a platform universally utilised.
Thank you.
Please click link to make – DONATION