Nigeria 2023 continued to bring new dimension to politics of sanity and branding with experience skilled politicians. Such it was with the appointment of the Kano South Senator, Senator Kabiru Gaya as the Director-General of The Progressive Project, the platform for Osinbajo 2023 campaign. He had previously been a patron of the Osinbajo Volunteers Movement.
The below 70 years old senator on landing on the seat at 15B Buchanan Street office, Abuja of the campaign fired straight on the call of duty as the DG TPP. Senator Kabiru Ibrahim Gaya has served in the Senate of Nigeria since 2007 representing the Kano South constituency and a former Governor of Kano State (1992–1993)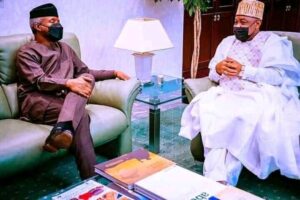 Full speech
On behalf of all the members of various support groups, eminent political leaders and citizens too numerous to mention but whose consultations culminated into my presence here today, I welcome you all.
"As you all know, The Progressive Project (TPP) is a mass based, citizen-driven project calling for the candidature of Vice President Yemi Osinbajo as APC's presidential candidate in the forthcoming elections.
We are succeeding and my specific assignment here is to lead a process of recalibration all pro-Osinbajo populist forces towards electoral victory under the banner of APC.
"Our duty is the coordination of all support groups: this is not the Campaign Council.
"For Professor Yemi Osinbajo, this race is not about personal ambition but about a positive response to populist call from a citizen-driven mobilization that began without input from him or his office.
"Note that people from other parties and even millions of non-partisan citizens who do not belong to any political party have strong interest and involvement with this campaign for Osinbajo's candidature.
"Without an iota of doubt, I am certain that all the knowledgeable people here can attest to the qualities and competence of Professor Yemi Osinbajo.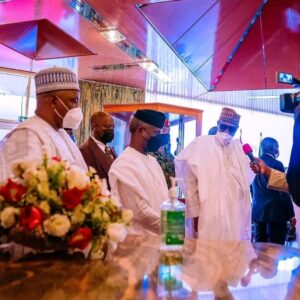 "You will also agree with me that his chosen method redefines presidential declarations in Nigeria; he has clearly signalled that noble citizens have no need to descend into gutters. No touts were hired by anyone and his message effectively reverberated across the entire country and the Diaspora
"Globally, climate change, insecurity, drug trafficking, economic problems such as unemployment and inflation along with many other challenges have worsened and all these impact Nigeria and many other countries.
"However, by electing someone of Professor Yemi Osinbajo's pedigree who has direct insight into the depth of our challenges as well as current strategies and tactics being laid out to tackle them, we have a great chance to move ahead without much waste of time.
"Nonetheless, a lot is being said by many; as genuine democrats and as Progressives, we shall continue to defend the constitutional rights of citizens to hold their own opinions but we must all be weary of those whose sole preoccupation is the propagation of such hate and suspicions that seek to hold our country down.
"Even an internal issue of the price of our party's nomination form is being deliberately misinterpreted in some circles when we feel confident that unlike moneybags, our truly populist candidate is popular enough to pool supporters' token donations and raise such money with ease. Just one youth group with TPP, the Progressive Group alone say that they can raise N100m with rough voluntary contributions of N10, 000 each by 10, 000 of their supporters who are keen about seeing a better future. Our populist Mathematics is flawless and very strong; moneybags within or outside APC will only lose their dollars in any contest against the people's will.
"Unlike the history of some other political parties, records show that neither APC presidential ticket nor its VP slot had ever been won by throwing money around but by populist endorsement from North and South.
We note that the fear of the people's genuine power has made some elements to resort to heightened propaganda in the past few days; some sponsored articles of calumny are appearing here and there and through our long-term friends in the mass media, we are monitoring the sponsored pawns and their sponsors. We will not descend low to play gutter politics and we have continued to warn our supporters against involvement in insults and vilification. We are democrats, we believe in uniting people and in submitting ourselves and competing ideas to the people's evaluation and decisions through the ballot box.
For us at TPP, the unity of Nigeria as well as the unity of all Progressives remain paramount.
"We are not unaware that a band of very few pessimists who try to deceive themselves and their sponsors about their lower chances are equally disseminating false narratives in a futile effort to demarket Yemi Osinbajo. Some have said that some opposition elements probably have a hand in it, out of fear APC's much-improved prospects of victory with Osinbajo as presidential candidate.
"Let it be emphasized once again that all the populist forces behind Professor Yemi Osinbajo fear no foe and hate no one; we are focused without compromise on the unity, progress and development of Nigeria and we shall not descend into gutter fights with any person or group.
Indeed, we are proud of the fact that APC has the richest array of competent, people-focused aspirants to choose from. We, here at TPP also feel confident that our candidate's widely acknowledged qualities stand him out. Indeed, as Vice president who has competently held forth for his principal – doing so to the admiration of all sections of this great country- Vice president Yemi Osinbajo has a right of first refusal at this crucial point in Nigeria's history.
"Like hundreds of our support groups and like millions of Nigerians who called upon him to come out and contest, I have totally confidence that by the power of the Almighty and the electoral power of millions of Nigerian citizens across the six geo-political zone, Yemi Osinbajo will succeed President Muhammadu Buhari on May 20, 2023.
"Regarding the debate over whether our party should consider direct, indirect or consensus options for the presidential primaries, we believe that nothing is cast in stone and a few things can be changed at any time. What is most important is what the law says and the law of the country, as given by the Electoral Act states that there shall be direct, indirect primaries or consensus.
"Believe me, whichever of the three options is eventually chosen by APC's experienced and forthright leadership, Prof. Yemi Osinbajo will win! Much more than some people realize, a huge majority of party members and the electorate are with Osinbajo.
"At this juncture, I wish to thank the millions of great patriots, including members of APC, members of opposition parties and all those non-partisan Nigerians who steadfastly believe in the candidature of Professor Yemi Osinbajo as the best option for moving Nigeria forward. More than any other presidential aspirant in Nigeria today, Osinbajo is far ahead of any other when it comes to possibilities of winning votes across party lines.
"My message to all of us today is that we have to further involve other stakeholders in all that we are doing; greater than the tread of mighty armies is an idea whose time has come and together. Like the symbolic bunch of broomsticks that cannot be broken, we can all contribute towards achieving great progress for our party and our dear nation.
In anticipation of a just and well-deserved victory, we thank our party's close to eight thousand delegates for their objective sensitivity to the pulse of the electorate.
"Most worthy of appreciation are the self-effacing but great efforts of all those governors, Senators, Honourable members of the House of Representatives as well as all other serving and former elected officials who have keenly supported this project.
"Our recalibration for an impactful political transformation entails pooling all our contacts, experience and other resources so that all other groups can contribute towards actualizing a formidable political front.
"I notice that thus far, our women and youth groups are doing well but we need to sustain the tempo and even do more; I applaud the enthusiastic efforts that you have all continued to put forward on social media, in traditional mass media and elsewhere.
"The Progressive Project (TPP) thanks the Nigerian mass media for keeping alive the sense of patriotic mission which had existed through since the days of the struggle for Nigeria's independence. While a few elements may have made themselves available for those manipulators with deep pockets who desperately seek to manipulate citizens' perceptions, a broad majority of the Nigerian mass media gave steadfastly continued to carry out the duty of informing, enlightening and entertaining us in a very objective manner. I was being asked to single out a few outstanding allies like Human Rights Radio but I shall not be tempted to do so at this point in time.
"There are just too many people to thank for the efforts made thus far and the preparations to go even much farther within the next few weeks; we shall endeavour to carry on everyone who genuinely believes in being a significant part of this project. Our collective mission is bound to continue stronger and we are having increasing chances of winning the forthcoming presidential primaries as well as the general elections.
Great Nigerian people, we are on the cusp of history; together, we shall reaffirm our commitment to populist and progressive ideals by electing Professor Yemi Osinbajo to lead.
"I thank you all for listening."
—————————————————————————————————————————————
Your help to our media platform will support the delivery of the independent journalism and broadcast the world needs. Support us by making any contribution. Your donation and support allows us to be completely focus, deeply investigative and independent. It also affords us the opportunity to produce more programmes online which is a platform universally utilised.
Thank you.
Please click link to make – DONATION