Nairobi, Friday, 5th October 2023:
In its first edition, the Fairtrade Global Awards recognizes the outstanding and innovative contributions from businesses to create a fair and just global trade system across the world.
Hosted by Fairtrade Africa, The Fairtrade Global Awards featured a diverse range of eight categories celebrating excellence in ethical and sustainable trade practices, from climate action to living wages and income.
"Businesses have the potential to be remarkable agents of positive change," said Sandra Uwera, Global CEO of Fairtrade International. "At Fairtrade International, we've seen countless examples of companies going the extra mile to make a sustainable impact. With great pride, we announce the launch of new award categories, recognising those businesses that are leading the way. Let us use their stories as a source of inspiration, a testament to what is possible, and a call to action for others to follow suit in the pursuit of a more sustainable world."
Under the banner of "Driving Sustainable Impact through Business Innovation," the judging panel for the 2023 Fairtrade Global Awards was comprised a group of experts and leaders deeply committed to ethical trade practices and sustainability. They have brought a wealth of experience, knowledge, and passion to the evaluation process.
"The Fairtrade Global Awards provides a platform to acknowledge people and organisations that are actively reshaping our global trade landscape. It is truly inspiring to see how the nominees have harnessed the principles of fairness and sustainability to make a tangible difference in the lives of farmers and workers" says Mrs Assata Doumbia, President of the Board of Directors at ECAM Meaui and a member of the Judging panel for the Fairtrade Awards.
The winners and runners-up, announced at a gala awards ceremony held in the Kenyan capital Nairobi, are:
Fairtrade Climate Leader Award
Winner: Co-op, UK; Runner up: HPW Fresh and Dry Limited, Ghana
Fairtrade Innovation Award
Winner: Equifruit, USA; Runner up: Nestle Nespresso SA, Switzerland
Fairtrade Living Income Leader Award
Winner: Fairtrade Original, Netherlands; Runner up: DRWakefield, UK & Netherlands
Fairtrade Living Wage Leader Award
Winner: German Retailers Working Group on Living Income and Living Wages; Runner up:Journeys End Brands (Pty) Ltd, South Africa
Fairtrade Africa Award
Winner: Ivoirienne de Noix de Cajou SA, Côte d'Ivoire (under the group brand "Cashew Coast"); Runner up: Omniflora Blumencenter GmbH, Germany
Fairtrade Asia and Pacific Award
Winner: Nature Pearls Private Limited, India; Runner up: Ceylbee International (Pvt) Ltd, Sri Lanka
Fairtrade Latin America and Caribbean Award
Winner: Green and Blacks (Mondelez International), UK; Runner up: Delica AG, Switzerland
For the first time, the awards also recognised a global Fairtrade Partner of the Year
Winner: Ben and Jerry's, USA; Runner up: Coop Genossenschaft, Switzerland
The Fairtrade Partner of the Year Award recognizes excellence and strong commitments by companies which go above and beyond their Fairtrade certification engagement. Collaboration is the key, with the award recognizing existing commitments, strong two-way relationships with producer groups and a willingness to innovate and test new approaches in collaboration with Fairtrade.
"Ben & Jerry's commitment to Fairtrade and its principles is deep and longstanding; striving for social and economic justice is baked into our ethos of how we do business," said Cheryl Pinto, Global Head of Values Led Sourcing at Ben & Jerry's. "With the global challenges we face, it is critical that across sectors, we become more transparent, resilient, and fair in terms of valuing and honoring the essential contributions of farmers and farmworkers along with all other supply chain actors "
"Ben & Jerry's has been committed to making ice cream from Fairtrade certified ingredients since 2005 and Fairtrade has been a thoughtful partner with us in developing creative approaches and projects to drive more impact, particularly through our Living Income Accelerator," she added.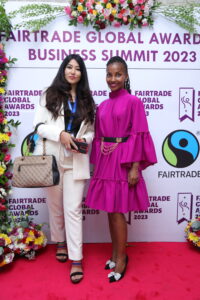 The 2023 Fairtrade Global Awards winners exemplify the spirit of Fairtrade by demonstrating a commitment to fairness, sustainability, and having a positive impact on the lives of farmers and workers in countries of origin.
Their contributions serve as an inspiration to all who believe in creating a more equitable global trade system.
—————————————————————————————————————————————
Your help to our media platform will support the delivery of the independent journalism and broadcast the world needs. Support us by making any contribution. Your donation and support allows us to be completely focus, deeply investigative and independent. It also affords us the opportunity to produce more programmes online which is a platform universally utilised.
Thank you.
Please click link to make – DONATION