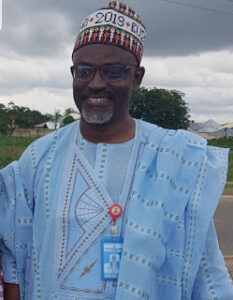 The Deputy National Coordinator (North & Diaspora), Buhari Campaign Organization, Amb Hussaini H. Coomassie has resigned due to what he termed as neglect and unconstitutional means of doing things by the group.
Coomassie who is a grassroot member of the BCO fowned on the leadership and Excos for not carrying other members along in the dealings of the group.
Coomassie on a phone interview with our correspondent said though many of the members have sacrificed a lot in making sure that President Mohammadu Buhari is returned as President, only few of them sacrificed time, energy and finance in prosecuting the agenda.
According to him, he spent millions of naira on international trips as the coordinator, diaspora and also printed shirts, bought a sienna bus for ease of movements and billboards in support of the campaign, for the return of President Mohammadu Buhari.
He noted that alot of prominent Nigerians donated to the organization for successful campaign and re-election of the President Buhari but just a few were carried along without good accountability.
"This is as a result of inconsistencies, lack of internal democracy, lack of carrying every stakeholder along. Immediately after the election, the BCO top leadership does things in secret with selected few.
" As a deputy national coordinator, I only get certain information on the pages of newspapers, I wasn't carried along. I spent my personal money to campaign in the diaspora, no money was allocated to me by the group (BCO), the ruling APC or any individual for the diaspora campaign. We campaigned day and night.
"I have not received any stipends from BCO or any other Nigerian. I campaigned in 9 countries in Diaspora with my team and also in some parts of Nigeria. I printed thousands of T-shirts and face caps including bill boards, with my hard earned money.  I contributed positively to the return to power of my president.
"I'm resigning due to lack of recognition. I'm yet to be recognised for what I have done. And the leadership of BCO are found of doing things with selected few. I don't want to be part of anything that will pull me back or dent my hard-earned image.
" I thank Alh. Danladi Pasali for believing in me and bringing me onboard, but I'm sorry I can't continue like this.
I hereby tender my resignation from the entire board of the Buhari Campaign Organization. I thank God Almighty for giving President Buhari a second mandate, I thank the media for standing by me, especially the LEADERSHIP Newspaper, Ben TV, Okrote's Blog, NTA and TVC.
"I thank you all for your support during my online campaign home and abroad. May Allah unite us in this country, may He make us succeed and make our beloved country Nigeria great again," he concluded.
—————————————————————————————————————————————
Your help to our media platform will support the delivery of the independent journalism and broadcast the world needs. Support us by making any contribution. Your donation and support allows us to be completely focus, deeply investigative and independent. It also affords us the opportunity to produce more programmes online which is a platform universally utilised.
Thank you.
Please click link to make – DONATION