NdiAbia NdiOma, I bring greetings from Chineke -Okeke, God Almighty, to you all my dear brothers and sisters in the diaspora, here in the United Kingdom, our good friends and hosts in the United Kingdom, our brothers and sisters around the world and at home, I say 'Mazi' UmuNwafor, everywhere we found or see ourselves we remain Gods Own People, from Gods Own State, Abia.
I want to use this opportunity to send out a very strong request to all Abians in the United Kingdom, wherever you're residing, either up-north, in Manchester, Liverpool, Aberdeen and as far as Belfast in Northern Ireland, to Down-South, England and Wales, we're calling on everyone to make out time to join us this year as we celebrate Abia culture and heritage in the open park in London.
This is going to be the first of its kind celebration of NdiAbia, in an open space, offering us the opportunity to express ourselves through our various unique dances, dress, masquerades, costumes, breaking of traditional kola nuts and presentations, the men and women of Abia from various autonomous communities, such as; Arochukwu, Uzoakoli, Ohafia, Ngwa, Ukwa, Uhuhu, Ibeku, Umunneochi, Isuikwuato, and many other great town unions would be proud to showcase their unique culture, food and costume, to the admiration of all our invited guests and the international community.
You're welcome to the Abia Cultural Day festival on the 26th of August, 2023, with our new amiable and the ready to deliver Abia, Executive Governor, HE. Dr. Alex Otti. OFR. as our Special Guest of Honour and Father of the Day, and his lovely dear wife, First Lady of Abia State, as our Mother of the Day, and our in-county Special Guest of Honour and Chief Host is no other one than the High Commissioner of Nigeria to the United Kingdom, Amb. Sarafa. Tunji. Isola. OFR.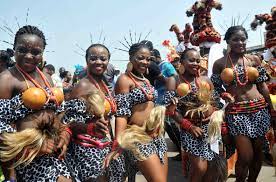 Abia State Indigenes In Diaspora Association UK&IRE (ABSDA), the Grand Host, is the umbrella body of all Abians living and working in the United Kingdom, the association is a full affiliating member of the following umbrella bodies in the United Kingdom, Central Association of Nigerians UK, (CANUK), which is the umbrella body of all registered Nigeria town unions, state associations and professional organizations in the United Kingdom, we are also a member of OhanEze Ndigbo UK and the Council of Igbo Communities, both umbrella of all Ndigbo in the United Kingdom, this shows that Abia diaspora is highly recognised and deeply integrated into the Nigeria community network, as functional and inclusive association of Abians.
Once again we are proud to be Abians, great people with a wonderful heart of hospitality and care. The entire executive committee of ABSIDA UK&IRE' look forward to receiving our special guests, the people's Governor, NdiAbia old and young generations, and good friends of NdiAbia at the London Essex park, for a glorious celebration of Abia culture and heritage. Date: 26 August 2023, Time: 10:00 prompt. Venue: Maybrook Park, 180. Lodge Ave. Dagenham. RM8 2JR. Essex.
Come One! Come All!!
Long Live NdiAbia NdiOma
Long Live Abia Gods Own State
Mazi. Godson Odo Azu
President
Abia State Indigenes In Diaspora Association. UK&IRE.
—————————————————————————————————————————————
Your help to our media platform will support the delivery of the independent journalism and broadcast the world needs. Support us by making any contribution. Your donation and support allows us to be completely focus, deeply investigative and independent. It also affords us the opportunity to produce more programmes online which is a platform universally utilised.
Thank you.
Please click link to make – DONATION