By Festus Fifen.
The candidate of the Peoples Democratic Party (PDP) in the March 11 2023 Gubernatorial Election in Taraba State Lt. Col. Agbu Kefas (Rtd) says that his blueprint for agricultural revolution in the state will attract a high foreign investment that will open up Taraba State as an Agricultural Hub in Africa.
Answering questions from journalists immediately after he attended the Burial ceremony of Late Rev. Habila Ahima held at the Christian Reformed Church of Nigeria in Wukari, Taraba State, the Retired Military Officer said he is already in touch with so many investors in that regard.
In His words, " we all know that Taraba is an Agriculture State with huge potentials, we will make sure that we revolutionise it by introducing mechanised farming system, training and equipping the people for them to be able to farm with modern technology.
"I believe that when you do that, the people will be able to have a new face of life, so I can tell you now that a new face of Taraba is coming" he noted.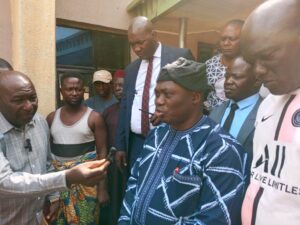 Speaking on security of lives and properties in the state, Col. Agbu Kefas said he will bring his experience in the military to his administration as a Governor.
" in the area of security you know I am an expert, I will use unity of our people as a tool to fight insecurity. I have done it before in the Niger-Delta, I have done it in Wukari, so the principles are the same, I will work closely with the people base on the fact that every environment have their peculiarity"
Making a brief remark earlier to the bereaved family, the Wukari Born philanthropist assured the family of his willingness to assist whenever the need arises.
" I want to assure you all from Wukari, Southern Taraba and the rest of the state that I am not coming as a governor for myself, I am coming for the people, I have used my personal resources in the past for the people, so if you give me your trust now in the form of votes, I will use it for the people" He concluded
—————————————————————————————————————————————
Your help to our media platform will support the delivery of the independent journalism and broadcast the world needs. Support us by making any contribution. Your donation and support allows us to be completely focus, deeply investigative and independent. It also affords us the opportunity to produce more programmes online which is a platform universally utilised.
Thank you.
Please click link to make – DONATION