Mr. Emmanuel Macron, the French President, has urged youths in Nigeria to get involved with politics in order to change the narratives and to be elected into public offices.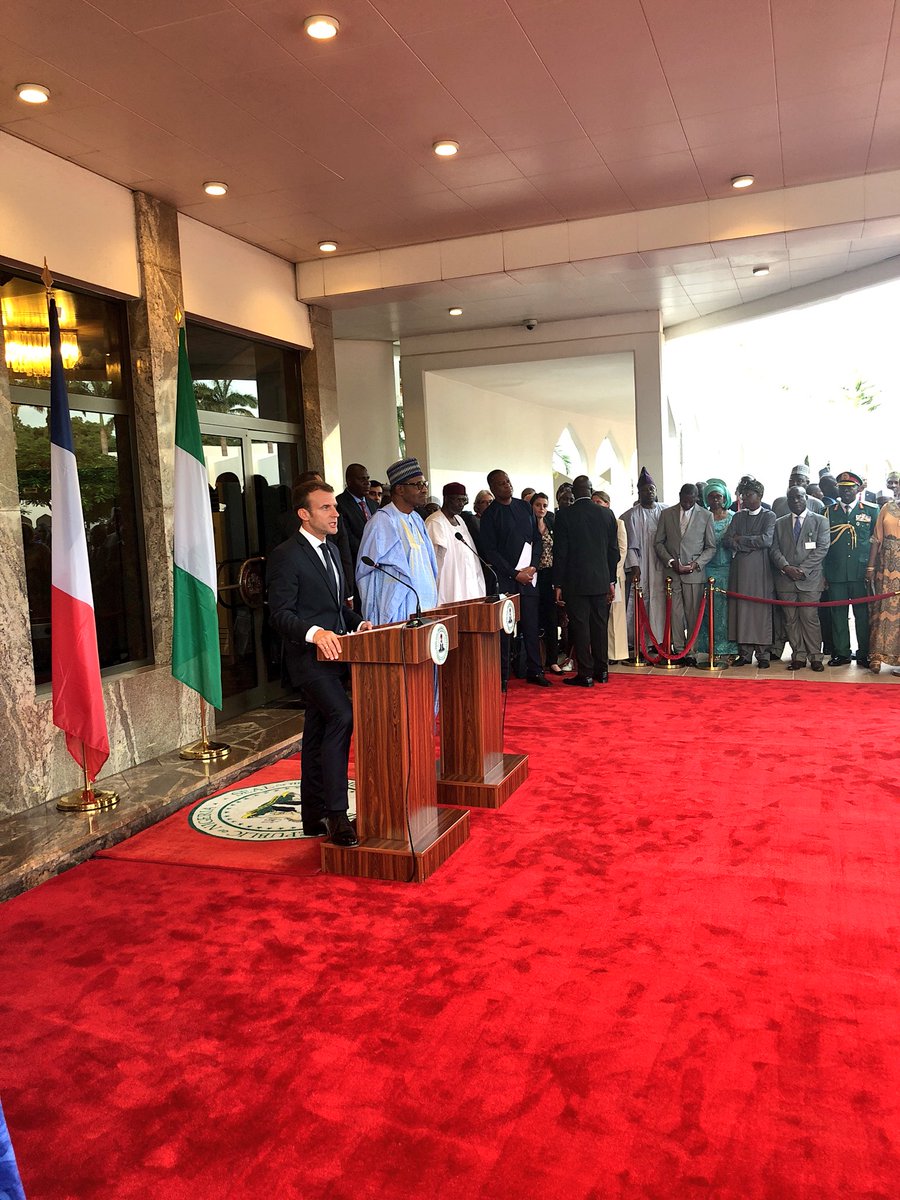 The President, who was accompanied by Gov. Akinwunmi Ambode of Lagos State, to Fela's Afrika Shrine in Ikeja, on Tuesday night gave the words at an event tagged "Celebrate African Culture" few hours after leaving and meeting Nigeria's President Buhari in Abuja.
"Africa needs a new generation of Africans to share the new narrative about Africa all over the world," – "I am very happy to be here. Let me remind you that this place — shrine is a music place as well as politics which is needed to change the society. So, I will say to the youths, politics is important, be involved," he said.
Speaking on of his first visit in 2012, described Afrika Shrine as an iconic place for the promotion of African arts, cultures and musics.
"I discovered Nigeria and a lot of my friends are here. I discovered Nigeria and I discovered Lagos and I discovered the shrine. This place is an iconic place and it is a place where the best of music are given.  "Fela was not just a musician. He was a politician who wanted to change society. So if I have one message for young people, it's this: 'Yes, politics is important; yes, be involved," Macron said.
"I have to say my main memories about this place are friends, proud people, proud of their culture, proud of their art and music. I have a very different view of Africa than a lot of other people in Europe because I was in the Gambia." Said Mr. Macron
Macron added the reason why some people persisted on having diverse views on the continent, : "I am not so sure the image of Africa is always negative. Some people say this is a tremendous continent with young people and lots of opportunities and so on and at the same time a lot of people say Africa is a place of terrorism and needs to liberate itself. The two assumptions are true at the same time because Africa is just more than that. It is a young continent, what we need is African people speaking about Africa. We need a new narrative, we need you people to change this narrative, what we need is young generation of artistes, entrepreneurs, civil societies, journalists and intellectuals coming from Africa and speaking about Africa in your own narrative everywhere."
According to him, politics is important because it is a tool to change the society. He advised the youths on the tasks of making Africa great lies on them.
The President shared and announced the launch of African cultures season in France by the year 2020.
The host govvernor, HE Ambode of Lagos who thanks the president and said the visit will signal the a new collaboration between Lagos State and France in their quest to make the state the capital of Africa in term of culture and entertainment.