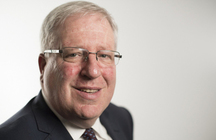 Patrick McLoughlin, Party Chairman, speaking today at Conservative Party Conference at The ICC, Birmingham said:
Thanks Gerry – and thanks for all the work you and the Convention officers are doing.
Conference – this is the first time I have spoken to you as your party chairman.
But it feels a bit like coming home.
Home to the heart of a party that I love and which has helped me make something of my life.
A party that I joined over 40 years ago –
–       Attending my first conference in 1977.
Starting in the Young Conservatives.
As a District councillor in Cannock Chase.
As a Staffordshire County councillor.
As an MP for Derbyshire Dales.
Serving on the frontbench since 1989.
I served as a junior minister under Margaret Thatcher and John Major.
As a Cabinet minister under David Cameron and now Theresa May.
All of them great leaders achieving important things for our country and they deserve our thanks.
But here today in Birmingham, it's a bit like coming home in another way too.
To the place I grew up.
Actually it was Cannock, not far away up the road.
Where I worked as a coal miner and my grandfather and his worked as miners before me.
There weren't many Conservative members in the pit that I worked at, it's true.
But Conservative roots go deep here in Birmingham.
A city where Joe Chamberlain once "made the weather" in politics, as Churchill said.
He brought the support of the Liberal Unionists, and both his sons went on to lead our party.
And the Conservatives are making the weather today, backing a new Mayor for the West Midlands.
And we have a great candidate in Andy Street. Not your typical politician.
A man with fantastic business record, now putting himself up for public service.
He's a proud local
Passionate about the West Midlands
Andy has the experience and vision to make this region even better.
Next year we face an important set of elections. County council elections up and down our country, local elections in Wales, Scotland and in our unitary authorities.
We cannot afford to be complacent. And I know that you won't be.
Because we know winning matters in politics.
It's the thing that earns us the right to achieve great things for people.
But it's not everything.
Maybe as party chairman, in charge of campaigns, I shouldn't say that.
But for me, this job, it's about the party we build and the people we can get involved.
About members like me, and you, starting out, looking for a way to make a difference.
And those who care for our country enough to do their bit.
If this is your first conference – right now, politics is amazing.
Labour, tearing itself apart.
Every former Labour leader saying publicly that Jeremy Corbyn isn't fit to lead their party.
172 Labour MPs voted no confidence in their leader. One hundred and seventy-two.
How on earth are they, with a straight face, going to recommend him to the British people to be Prime Minister?
The Liberal Democrats, remember them? Still, we must not underestimate them.
The SNP, in power in Scotland, facing a brilliant, thriving Conservative opposition under the fantastic leadership of Ruth Davidson.
What an amazing achievement she had this year.
Taking our party from 15 seats to 31, beating Labour into second place.
And with Ruth as leader of the opposition, the SNP are finally going to be held to account.
A lot has happened since our last Party Conference – but one important thing is the same.
It's still our party that the people of Britain trust to guide the way, under our second female Prime Minister, Theresa May.
My message is this: there was a time not long ago, when some clever people used to claim that party politics was over.
That nobody wanted to join anymore.
Well how wrong they were.
Tens of thousands of people have either joined or re-joined our party this year and that is great news.
And I'm pleased to say that this year there are more party members attending Conference than at any time in the last decade.
But yes – our opponents are growing too.
Lots of people are getting involved.
That's a good thing.
That's democracy.
Politics matters, this fight we are in, it's real.
And I promise you that as party chairman, I'm going to make sure we don't forget that.
I know that over the last few years we've lost some people, there have been family rows.
We've all seen it.
Well that needs to be over.
It's time to come together again.
Backing a brave progressive optimistic compassionate determined bold Conservative Government.
Let me say something about the Boundary Review.
This is all about ensuring everyone's vote carries equal weight.
Because if we don't, MPs could end up representing constituencies based on data that is over 20 years old.
Today there are some constituencies with more than twice as many voters as others. In a modern, democratic system that cannot be right.
And of course Labour are playing political games here: opposing changes that Parliament has already voted for.
Riddled with infighting and threats of deselection by the hard left, they trying to block these reforms.
Now it might not be convenient for some Labour MPs, but it's not good enough for those people whose vote counts half as much.
We said that we would act, and make everyone's vote count equally.
We put it in our manifesto at the last election.
And it was enacted in the last Parliament with Nick Clegg's support.
These changes must take place.
Sometimes politics is hard.
We have had to take some tough decisions, knowing that they are the right ones for the country.
All of us at some point in our lives will rely on the National Health Service.
It is one of the things that makes our country great.
Jeremy Hunt, our Health Secretary, is ensuring that our NHS doesn't just have a future, but gives people the certainty of world class care –
–       wherever and whenever they need it.
Philip Hammond as Chancellor is tasked with building an economy in which everyone can have a stake.
That doesn't just create jobs, but provides job security.
Tough decisions taken by strong politicians.
We are going to take the great strength of our party and make it stronger still.
Today I can announce that our Campaigning Team will be training the next generation of Conservative Campaign managers in year-long apprenticeship schemes,
Enabling us to build on our successes in 2015 in places like Morley and Outwood, Gower,
North Cornwall and Cheadle, Derby North.
Remember how sweet it was to unseat Ed Balls and Vince Cable?
We know that in some major cities we simply lack the capacity to deliver our message effectively on the doorstep.
That is why we are bringing in a new team of City Campaign Managers, ready to take the fight to Labour in their heartland.
Working with the Vice Chairman for Cities, my PPS Stuart Andrew.
In Theresa May we have a prime minister who knows what our party can achieve.
She was a councillor, she's been out everywhere to meet members.
I know from talking to her it's what she thrives on.
And this matters so much.
Because we simply can't afford, now more than ever, to let the Labour party near a sniff of power.
Imagine, for just a second or two, Labour win the 2020 general election:
Jeremy Corbyn is in Downing Street raising the red flag.
John McDonnell is raising every tax he can find and inventing new ones.
Diane Abbott is running the Health Service.
Ken Livingstone, twice defeated by our Foreign Secretary Boris Johnson in London but somehow undeterred perched in the backseat of the Prime Ministerial car.
Tony Blair and Peter Mandelson locked in the boot…
…well, every cloud has a silver lining.
But just because the prospect is appalling doesn't mean it couldn't happen.
We've got to stop it by showing a better way.
And creating opportunities for people at every stage of their lives.
It's what we did in the four years I spent at the Department for Transport: rebuilding Britain and investing in our towns and cities.
Just look at Birmingham New Street station. A £750 million revamp, bringing more capacity, better facilities and hundreds of new jobs to the heart of Birmingham
And we're stamping the Conservative mark on the country with more children in good or outstanding schools, More than 2 million apprenticeship starts, A National Living Wage,
Income tax cut for more than 30 million people, Investment in our NHS
Lower crime
And the largest increase in the state pension for 15 years.
Conference, we can look back over the last six years with pride.
And pride in particular, to have been led by David Cameron.
Now the achievements our Party made under David are real.
He took us from 198 Members of Parliament in 2005 to 329 today.
And I hope together we can make Robert Courts, our candidate in West Oxfordshire and Witney, the 330th in 18 days' time. Welcome to Robert, who is here this afternoon.
Anyone who cares about politics should acknowledge David Cameron's honesty, decency and his loyalty.
A few months ago he was due to speak at a fundraiser in my constituency.
In one of those weird twists of fate that is any party planner's worst nightmare, it ended up taking place the day after he left Downing Street.
I assumed he might give it a miss.
But no. He came along, spoke from the heart, and shook everyone by the hand.
And really, he showed the measure of the man:
He loves this party and he loves his country and David, we thank you for what you've done for our party and for our country too.
And thanks, too, to George Osborne. As Chancellor he turned our economy around.
2.7 million more people in work since Labour left office. The deficit cut by two thirds. Over 900,000 more businesses created.
And to Andrew Feldman – thank you for the brilliant job you did as my predecessor.
Raising funds.
Building a strong team.
Helping us win that 2015 election.
And I was so proud to see Theresa May put it so brilliantly in her address on the steps of Downing Street.
Contrast, for a moment, our smooth transition with the utter farce that we have seen in Labour.
A leader supported by less than 20% of his MPs.
Two leadership elections in less than a year.
And at one stage more court battles than actual leadership hustings.
Conference, the Conservative Party in government has a clear path.
To deliver Brexit and make it work for Britain.
To tackle the injustices that still exist in our nation.
And to build a country that works for everyone.
It's what we Conservatives have always done.
There was a brilliant moment in Theresa May's first PMQs…
When Britain's second female Prime Minister turned to the Labour leader…
…And effectively said:
Two – Nil
Because whilst the Labour Party talk about equality; it's the Conservative Party that delivers it.
Ours is the party that brought equal votes for women.
Extended the franchise.
Gave council tenants the right to get their foot on the property ladder.
Elected the first woman to sit in the House of Commons as an MP.
Kept our promises to the poorest people in the world. And thank you to Justine Greening and her successor Priti Patel, for all that you have been doing in international development.
Conference, ours is the party that elects strong leaders while other parties forget what leadership is.
But here's the thing.
We can never just imagine that people will thank us for what we've done.
I am always reminded of a story about a Labour MP, canvassing on a council estate in 1979.
They came across a house covered with Conservative posters and asked the resident
"Why are you supporting the Tories? I helped you get this house."
And the resident replied, "Yes. But you won't let me buy it".
Conference,
We've got to be ready to rise to the challenges of the moment.
To take no one's vote for granted, to keep their trust and to remain on the side of people who work hard and do the right thing.
So my message is this:
There has never been a more exciting time to be a Conservative…
Come and play your part.
If you are one of our thousands of new members…
Get out on the doorstep and campaign.
If you're one of our army of councillors…
Take pride in what you offer your community…
Get out on the doorstep and campaign.
If you are looking at politics…
….And care about our future…
…and our country.
Whatever your background…
Come and be part of the Conservative Party.