Prime Minister Theresa May hosted a Downing Street reception today to celebrate London Fashion Week, welcoming guests from across the world of fashion including designers, models and CEOs from some of the UK's biggest fashion brands.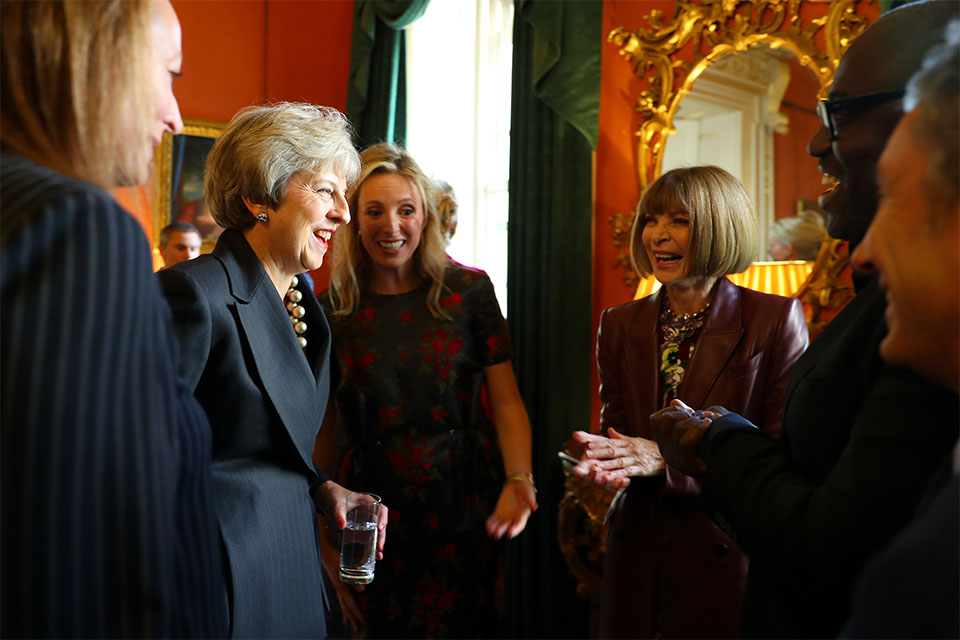 As the Prime Minister welcomed the guests, including Alice Temperley, Christopher Kane and Molly Goddard to Downing Street, she also took the opportunity to celebrate the industry, which contributes £32 billion to the economy and employs over 890,000 people. Over the last year exports across the industry have risen to £11.3 billion with growing demand from China, the USA and Japan.
Over the last five days, London Fashion Week has welcomed guests from over 50 countries and five continents. As an official supporter of London Fashion Week, the Government has played an important role in using the international event to open up markets across the world for British brands and designers.
By supporting the British Fashion Council and their international guest programme, which has brought 150 top-level international media and retailers to the capital, the Government is helping accelerate the fashion industry's export potential to important markets including Europe, USA, Japan, China and South Korea. Later this September, the Government will also support British Fashion Council's "LONDON show ROOMS"
showcase of emerging British designers at Paris Fashion Week.
Prime Minister Theresa May said:
"For years, London Fashion Week has showcased the best known names in British fashion as well as the industry's emerging talent and this year has been no exception.
"British fashion is a serious business. The industry as a whole contributes £32 billion to our economy, employs over 890,000 people, and totals billions of pounds worth of exports. Our designers sit at the helm of global brands and we lead the world in design and digital innovation with names such as Net-a-Porter, ASOS and Farfetch all launching in the UK.
"I want to see us continue this success as we build a new future for a global Britain where our fashion industry can thrive."
Stephanie Phair, Chairman of the British Fashion Council:
"I would like to thank the Prime Minister for hosting us at Downing Street to close London Fashion Week.
"London is the Global Fashion Capital and this week London Fashion Week has played host to over 120 runway shows, presentations and events from 80 global fashion designers, to an international audience from over 50countries.  Our mission at the British Fashion Council is to cement the international reputation of British fashion – which directly contributes over £32 billion to the UK in GDP.  Fashion is a serious business and in employment terms is ranked almost as large as financial services.  In this time of change, when digital is disrupting the old order and borders seem to be closing, let's remember that fashion unites – that fashion is a cultural signifier and that the UK has an opportunity to champion the creativity of Brand Britain with fashion at its cultural epicentre."
To further support the industry, the Government has 
expanded the exceptional talent visa to ensure that the world's leading fashion designers can come and work in the UK and through the Creative Industries Sector Deal is investing £150 million in creative businesses, including design and fashion.