Improving humanitarian responses, combating infectious diseases and tackling child exploitation globally are to be the focus of major UK investment into research, science and technology, International Development Secretary Priti Patel will announce today (26 October).
Speaking at the Grand Challenges Conference in London, hosted by the Bill and Melinda Gates Foundation (BMGF), Ms Patel will launch the Department for International Development's (DFID) first-ever Research Review and highlight Britain's global leadership in this field.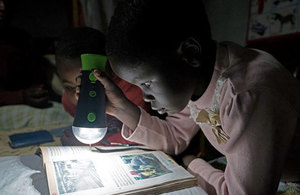 The Research Review sets out how the UK will focus £390 million per year over the next 4 years on research and innovation to help address the great global challenges of the 21stCentury. It responds to the objectives set out in the UK Aid Strategy which deliver in the UK's national interest. These include strengthening resilience and crisis response, promoting global prosperity, tackling extreme poverty and helping the world's most vulnerable, while ensuring value for money for the taxpayer.
The investment includes £357million funding for research on infectious diseases through the Ross Fund, which aims to develop medicines, tests and insecticides to limit the threat of diseases.
The Research Review outlines that over the next four years DFID will:
·         double research and innovation into humanitarian responses;
·         scale up research on combatting infectious diseases;
·         increase investments in research on climate, energy and water;
·         treble research funding on education so we can create more virtual classrooms for the millions of children with no safe route to school – laying the foundations for a country's economic development; and
·         develop research in areas which have previously been neglected, such as migration, taxation, political accountability and human trafficking and child exploitation – the areas which hold back growth, peace and development.
At the conference the International Development Secretary will also announce the extension of the research partnership between DFID and BMGF, which supports researchers to develop health, nutrition and agricultural technologies and approaches.
Priti Patel said:
"The UK is a research super-power whose global leadership is changing and saving lives across the world.
"British innovation in fighting extreme poverty is more important than ever. That's why I am determined to put top-quality research and evidence at the heart of UK aid. The UK in partnership with world-leading organisations can help address the great global challenges of today.
"Global Britain's commitment to innovative research will mean we can act faster, reach more of the world's poorest people – and get the most out of every pound we spend on behalf of the UK taxpayer."
This is the first time the BMGF-hosted conference has been held in the UK. It celebrates the Grand Challenges programme, which asks the world's brightest minds to focus on the biggest challenges in health and development.
At the conference the International Development Secretary also reaffirmed DFID's commitment to continue investing 3 per cent of its budget in high quality, high impact research.
Successful UK aid funded research has already helped:
·         over 300 million infants who have been treated with anti-malarial medicine developed specifically for children;
·         more than 20 million farmers in Asia who now grow 'scuba rice', which has been specially developed to withstand flooding; and
·         11 million people in Africa to be protected from malnutrition and disease with vitamin-enriched beans, maize, and orange-fleshed sweet potato through the partnership between DFID and the BMGF.
UK institutions and researchers win a significant proportion of DFID's research funding, due to their high standards and innovative approaches, which are recognised globally.
DFID's research investments will form part of a concerted cross-government effort to drive progress on tackling development issues through science and technology.