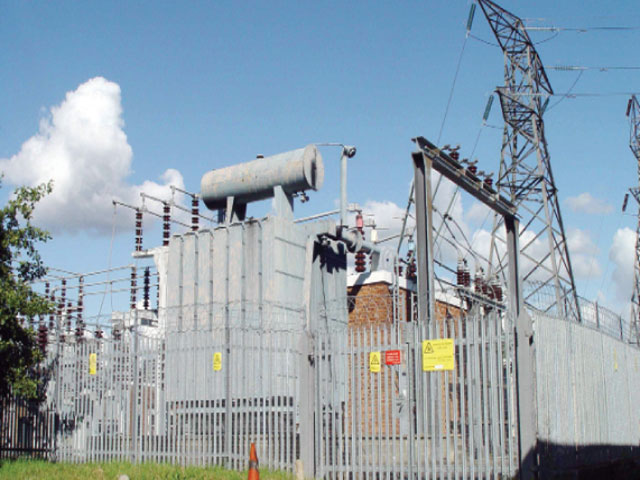 Yemisi Oyebanji, a widow, who owns a small scale frozen food shop in Ojodu area of Lagos, has been a sad woman in the last one month. Though her husband died four months ago, her sadness stemmed from the fact that her small shop, which she started in early September may soon be closed due to dwindling electricity supply.
Speaking to Sweecrude on her ordeal she said "Since the first week of November, I have been encountering losses on a regular basis, as the products in my freezers easily get spoilt due to the constant blackout in this area. I lost four cartons of chicken and three cartons of turkey worth about N40, 000 in the last three weeks due to poor power supply. Not only do I encounter blackout, the bill has increased. How can a small shop like mine pay as much as N9,500, as against the N3, 000 I paid last month?" She queried.
Oyebanji told Sweetcrude that the constant blackout is threatening her means of livelihood and has put her in a position that she would not know how to take care of her five children who are below 11 years. Her condition was made worse by the fact that she has no generating set as a backup, thus leaving her at the mercy of public power supply.
Her story is not different from many other Nigerians. Sule Ajiki, a welder in Ogba area of Lagos, who set up his outfit in August this year, is in a fix. Since he started his business, he is yet to make a head way because patronage has not been forthcoming due to acute instability in electricity supply.  He told Sweetcrude: "Since I started this business in August, I have not been able to find my bearing. Patronage has been low, because power has been unstable. But it became worse in November. I used to have five hours of electricity, but now I hardly get it for two hours. How do I survive?" he asked.
Ajiki also stated that his worry borders more on the exorbitant bill which he was given this November. "I thought the handover of PHCN to the private sector would bring change to my business. I am disappointed because apart from the almost non-existent electricity, the bill is scary. Can you believe this (shows his last bill), I am required to pay N5, 400, whereas before now, I used to pay N2, 000. Where do they expect me to get the money from? It is frustrating," he lamented.
For Sunday Effiong,  a barbing salon operator in Alausa, Ikeja, Lagos, the power situation in his area has not improved since the handover  to private investors in the sector. According to him, "We were happy when we learnt that PHCN has given way to private hands. Our hopes were raised. We thought we were in for better days, but in the last one month, we have not seen any improvement.  We used to have 8-10 hours of electricity daily, but now we have about four hours, if we are lucky."
To his surprise, the last bill he got in November showed that his service charge has increased by 100 percent, from N750 to 1, 500. He is contemplating "going without public power supply for now until things get clearer. Effiong told Sweetcrude that if not for his generating set, his business would not have been functioning effectively.
The experiences of Oyebanji, Ajiki and Effiong show the growing concern of many Nigerians who had looked forward to improved power supply, after several years of power outage, blackout and interrupted electricity supply by the defunct Power Holding Company of Nigeria, PHCN. Since independence in 1960, the issue of power outage and blackout has become the norm rather than the exception, such that some Nigerians believed that uninterrupted electricity supply would never be achieved in their generation.
The situation was not made better by successive governments which promised to shore up the mega watts so as to give the populace the much needed regular power supply without success. Nigerians have therefore looked forward to the day power outage would be a thing of the past. It was such hope that greeted the November 1, physical handover of PHCN to private owners.
However, one month after the handover, the power situation appears to have deteriorated, while the bills have been increased drastically. Also, some hidden charges have been introduced to the shock of customers. For example, a resident of Ilasamaja area of Lagos, who simply identified himself as Victor, bought a recharge card worth N5, 000, for his pre-paid meter. On getting home, he discovered that the service charge has been increased by 100 percent, from N750 to N1, 500. He was more annoyed by the fact that in the last three weeks, he has not had three hours of power supply in a day. He has relied more on his generating set on which he spends N6, 400, a week for petrol.
He is not alone. Hugo, a resident of Okota, got his shock when he discovered that his bill was increased from N6, 000 to N7, 200. When he complained at the Okota office of West Power and Gas Limited, the new owners of Eko Electricity and Distribution, he was told it would be rectified. "This is a massive fraud. It is a transfer of fraud from the public sector to the private sector. There is no enabling law that protects the consumer. People are given huge bills to pay without a commensurate supply of electricity. It is unfair," he said.
Hugo's is not an isolated case. Sweetcrude learnt that there has been no significant change since the handover of PHCN to private investors. Bills are still based on estimates. For one, the pre-paid meter issue has been suspended, making it easier for estimated bills to thrive. Also, no new equipment has been installed to replace the old ones in the GENCOS and DISCOS. Moreover, more than half of the defunct PHCN workers were laid off without any replacement yet. Consequently, things are still done the old way in these successor companies.
Fundamental to the operation of the GENCOS and DISCOS is gas supply. When the former President Olusegun Obasanjo administration built some of these power plants, gas supply was not factored in. This has left them comatose.  It has also contributed to the low capacity production of the companies, which culminated in power outages being experienced always. The new investors have to grapple with laying gas pipelines and signing agreement for gas supply. This means that Nigerians have to wait for a long time before they experience uninterrupted power supply.
Last week when the nation experienced massive fluctuation of electricity, it was attributed to inadequate supply of gas to the various power plants in the country and the non-payment of gas fee by the new investors to Nigeria National Petroleum Corporation, NNPC. Power supply was said to have dipped by 450MW from the peak generation of 4,500MW.
However, the Transmission Company of Nigeria (TCN) said the drop in power supply occurred due to reported vandalisation of the gas pipeline supplying gas to Okpai power plant in Delta State, which resulted in the shutdown of the power station and unavoidable power rationing nationwide.
The General Manager (Public Affairs) of TCN, Mrs. Seun Olagunju, said the repair of the pipeline was been done, but it would take a while for power supply to stabilise in the country.
According to her, "There has been about 450MW reduction in electricity generation from Saturday, 23rd to Tuesday, 26th November, 2013 due to reported vandalisation of gas pipeline supplying gas to Okpai power plant in Delta State, resulting in the shutdown of the power station, and unavoidable power rationing nationwide.
"TCN is reliably informed that repair work is expected to be completed within three days and Okpai power plant will expectedly; resume generation last week Wednesday, 27th November, 2013.
"TCN regrets inconveniences to the Federal Government and our highly esteemed electricity consumers nationwide and enjoined members of the public to work with the government in protecting installations and facilities meant for our socio-economic welfare."
Now that the GENCOS and DISCOS are in private hands, what legal rights do the citizens have? Can they be sued?
Julius Onyeokoro, a legal consultant on energy matters told Sweetcrude that people have to look at the enabling laws that gave birth to the new companies before taking any legal action. According to Onyeokoro, "The main argument they will put up is that they are only distributing, while the government transmits. They cannot give what they do not have. However, they can be sued on defective fluctuations, metering, non-maintenance of wires, default of contracts signed with suppliers. But in terms of transmission, government is still in charge and cannot be sued."
When reminded that the National Assembly is yet to pass a law authorising the handover of PHCN to private investors, Onyeokoro said, "The law unbundling PHCN automatically repeals the law that created it. Waiting for the National Assembly to pass a law to that effect is like drawing back the hand of the clock. You cannot put something on top of nothing," he said.
Similarly, Sam Amadi, Chairman, National Electricity Regulatory Commission, NERC, the sector regulator, said that the issue of enabling laws setting up the new companies was taking care of by the Electricity Power Sector Reform Act of 2005.
"The Electricity Power Sector Reform Act takes care of that. The Act unbundled PHCN and gave birth to the new companies," he said. On the issue of legal rights of the citizenry, Amadi said, "The legal entity has not changed. They can be sued." He, however, reminded the people that the facilities hitherto owned by PHCN now belong to the new investors.
Sweetcrude was able to access the Electricity Power Sector Reform Act, 2005. According to Section 6, "All bonds, hypothecations, securities, deeds, contracts instruments, documents and working arrangements that subsisted immediately before the initial transfer date and to which the Authority was a party, shall, on or after that date, be as fully effective and enforceable against or in favour of the initial holding company as if instead of the Authority, the initial holding company had been named therein."
Also, the Act, in sub-section 7, stated, "Any cause of action or proceeding which exited or was pending by or against the Authority immediately before the initial transfer date shall be enforced or continued, as the case may be, on or after that date by or against the initial company in the same way that might have been enforced or continued by or against the Authority had this Act not been passed."
While Nigerians have been complaining of the shortcomings in the new dispensation, the new investors appear to be overwhelmed by the challenges confronting them since the handover. At the just concluded first general meeting organised by NERC, in Abuja, Mrs. Funke Osibodu, Director, Benin Electricity Distribution Company, said, "There is so much confusion in the public and we need to look at how to address this. For instance, the public believes they are not supposed to pay anything until January; that they should not be disconnected until then; and they believe they can come and stand in front of you and collect pre-paid meters just like that."
She explained that many electricity consumers are yet to understand that power system consists of generation, transmission and distribution. According to her, "Anything that happens anywhere, even if it is not your concern, it is assumed that it is your doing. The public believes that the lack of power is because the new owners in distribution companies do not know what they are doing.
"But in reality, it is a GENCO problem as a result of gas shortage. At one point, we were about going on air to make people know the true position."
Also speaking, Dr. Jamili Gwamna, Managing Director/Chief Executive Officer, CEO, Kano Distribution Company, said that the power allocated to his company has been below capacity and as such has reduced the DISCO's revenue expectation. According to him, "Our power allocation has been low in recent times. How on earth will customers pay me and how will I pay money also? There has not been power and when you threaten to disconnect consumers, they tell you to hurry up with the disconnection process."
For Mr. Adeyemi Adenuga, Managing Director/Chief Executive Officer, CEO, Geregu Power Plc, the challenge borders more on the system operator in the sector, whose activities do not go down well with his company. "The system operator that is supposed to know that capacity declaration is, what they should use to measure capacity continues to use another thing outside what is in the Multi Year Tariff Order 2 agreement and outside the interim rules that have been provided. "We are not happy and I think that the regulator, apart from coming up with all these beautiful rules, should make sure that the people who are there are actually keeping to these issues," he said.
Though the new investors did not talk about funding, it was learnt that huge investment would be needed to put the GENCOS and DISCOS on track in order to meet the aspirations of Nigerians.
Recently, the Bureau of Public Enterprises, BPE, said that the electricity distribution companies handed over to private investors on November 1, would require about $1.8 billion (about N288 billion) as capital expenditure over the next five years to attain efficiency and meet the required capacity. The Director-General, BPE, Mr Benjamin Dikki, said the Discos would be required to spend a total of $357.7 million within one year.
According to the DG, out of the $357.7 million, Abuja DISCO would be expected to invest $36.6 million; Benin DISCO, $24.3 million; Enugu DISCO, $27.2 million; Ibadan DISCO, $43.86 million; Jos DISCO, $22.75 million; Kaduna DISCO, $29.96 million; and Kano DISCO, $30. 38million. Others are the Eko DISCO, $45.2 million; Ikeja DISCO, $58.74 million; Port Harcourt DISCO, $25.5 million; and Yola DISCO, $13 million.
In addition to the above investment, Dikki said $357.7 million was expected to be injected into the distribution networks annually between now and 2017, which would amount to about N1.8 billion.
Such capital outlay would be challenging given the Central Bank's directive that banks should scale down funding in the power sector, while international lenders are said not to be favourably disposed to lending to Nigerians due to what they described as volatile polity
But Bekuochi Nwawudu, Director, CBO Capital, an investment advisory and project development firm, who is also an energy expert, said that the power companies would get the money to fund their projects. He said, "Telecommunications companies found the money and expanded. Oil companies have borrowed significant amount. Power will be the same. The question is will people pay their bills and thus will revenues/profits be generated? If this happens, then in addition to banks, Pensions funds have capital and bonds can be issued, the banks do not need to do it all."
On the issue of gas supply which is central to firing up the power plants, Nwawudu said," The companies should take a partnership not ownership approach. They should sign advance contracts that pay a fair price – to support gas capital sourcing and they should focus on the power margins/ volumes and not necessarily backward integration."
Nwawudu explained that the privatisation of the power sector has thrown up opportunities in the economy, "The impact is huge. Cheap power improves our manufacturing competitiveness. There are opportunities for electricity generation using alternative fuels and there will be    implementation of smart grids.
(sourced: vanguardngr.com)