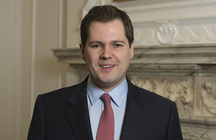 New Communities Secretary Robert Jenrick today outlined his absolute commitment to tackling antisemitism and supporting and protecting all faith communities.
In one of his earliest engagements the Communities Secretary joined Karen Pollock, Chief Executive of the Holocaust Educational Trust, and local leaders for a tour of Golders Green and to meet members of the Jewish Community.
As the new Government works to set out its key priorities, Mr Jenrick reaffirmed his longstanding commitment for Holocaust education and highlighted support for the Holocaust Memorial and Education Centre and Community Security Trust.
Communities Secretary Robert Jenrick MP said: 
"I want to thank residents for welcoming me so warmly in Golders Green today.

"It was a priority for me to meet representatives of the Jewish community in one of my earliest engagements as Communities Secretary.

"Not only to outline my absolute commitment to fighting antisemitism, but also to highlight my support for the fantastic work of the Community Security Trust and to ensure the Holocaust Memorial is completed.

"If we are to prevent the horrors of the past, then we must educate future generations, and I am proud in my previous role at the Treasury I helped to secure £1.7m for Holocaust education campaigns in schools.

"This Government will continue to champion and support the Jewish community, and all faith communities, and I am personally committed to making sure this happens."
Chief Executive of the Holocaust Educational Trust, Karen Pollock MBE, commented: 
"As a long-standing champion of the Holocaust Educational Trust and our cause, it is fantastic to know that Robert Jenrick is now at the helm for the establishment of a national Holocaust Memorial and Learning Centre, and committed to ensuring that this and future generations learn the lessons of the Holocaust and where hate can ultimately lead.

"We look forward to continuing to work with him."