Disadvantaged young people will receive extra job support to tackle youth unemployment.
Thérèse Coffey unveils job and skills apps to provide personalised skills support to help people find better jobs.
Building on record employment in the UK, Conservative Work and Pensions Secretary Dr Thérèse Coffey today announced two new programmes to help disadvantaged young people into work and to use mobile technology to help jobseekers into higher paid jobs. The programmes will start in Manchester with the potential to be rolled out across the country.
Dr Coffey said: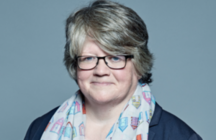 "I want to give everyone the best start in life, and every chance to get not just any job, but find that dream job.
"That is why we will provide extra help for disadvantaged young people and use the latest technology to help people climb the career ladder.
"With employment at record levels and millions more people in work since 2010, wages rising and hundreds of businesses being created every day, the Conservatives are truly the Party of the worker."
The Conservatives will invest up to £1.2 million in Manchester and the West Midlands, dedicating extra time and resources to young people facing the biggest hurdles to getting a job, including care-leavers and young offenders.
Following a successful programme run with Conservative West Midlands Mayor, Andy Street, they will also continue to support young people up to 6 weeks after they start a job, helping them continue to build skills and stay in employment.
Dr Coffey also announced a further £2.8m investment into cutting-edge technology to provide jobs 'apps' to recommend the best jobs and skills training to job seekers and people looking to find better, higher-paid jobs – a core mission of the Conservative Party.
It will provide local Jobcentres, LEPs and businesses with information on local skills supply and demand, and jobseekers or those seeking to progress in work will be able to search for roles based on their skills and experience. The pilot service, to be trialled in Manchester, will show them exactly what new skills they need to move into higher-paid roles available near them.
Both pilots could then be rolled out nationwide, helping reduce youth unemployment further after it has almost halved since 2010, and helping more people boost their earnings after new data this month showed average pay rising by its fastest rate in a decade.
This comes as Dr Coffey makes her first speech as Work and Pensions Secretary since she was promoted to the role earlier this month.
She will say:
"I want to give everyone the dignity of work and security for those who cannot.
"As Conservatives, we must all strive to ensure that everyone can achieve their potential."
She will attack Labour's "hopeless" record on employment and welfare and praise the work of her Conservative predecessors helping millions into full-time work.
Recalling her youth, she will say:
"I grew up with Labour taking away job opportunities.
"My parents, both teachers, were sent their redundancy by Derek Hatton's Militant-run Liverpool council in the 1980s.
"Yes, those notices sent by taxi.
"I watched our country, glowing in confidence and success under Margaret Thatcher, and thinking: why was this all being ruined for us?
"Why would anyone choose the politics of division, jealousy and deprivation instead of embracing endeavour, aspiration and hope?
"I am asking that question again today. We need to prevent Jeremy Corbyn and his cronies seizing the levers of government."
Reacting to Labour's Conference policy to scrap Universal Credit, she will say:
"Universal Credit provides a safeguard for the most vulnerable in our society, and supports those of us who are strivers, who aspire for their futures who are not content living a life on welfare.
"We know that work is the best route out of poverty.
 "And Jeremy Corbyn wants to scrap this approach.
"With no alternative – from the Party that only knows how to trap people on benefits."
Latest data released in September shows UK employment has increased by 3.7m since 2010. Around three-quarters of that increase in employment has come from full-time, permanent and higher skilled roles.
Youth unemployment has also halved since 2010, with 451,000 more young people in work. The number of children growing up in in workless households is also at an all-time low.
Income inequality is close to its lowest for 30 years as wages grew by 4% in July, outpacing inflation for 18 months in a row.