A hearty round of congratulations is in order for Asiwaju Bola Ahmed Tinubu on this auspicious occasion of his 65th birthday. I pray that God continues to grant him grace and good health in the years ahead.
Though I cannot be said to be a close associate, I have known Bola Tinubu for about 40 years since we first met in Chicago in the 70s.  I lived in Ann Arbor, a sleepy University town in Michigan; but most weekends I took a train ride to Chicago to spend time with my late sister Bose and enjoy the big city life. Bose attended the same school with Tinubu and she hung out with Patrick and his brother Peter, who were close friends of Tinubu. I attended some great parties with them in the Windy City.  Those who knew Chicago in the 70s and 80s will tell you it was a really fun place. It was one of the early frontiers of black American enterprise in mainstream American economy. There were also many successful Nigerians in the city and the Nigerian party scene was vibrant and very much the talk of the town.  
Years later I was to hang out with Tinubu again in Lagos. Only this time it was not a party scene. Asiwaju held a regular group discussion meeting of young professionals at his Saka Tinubu, Victoria Island office, to discuss topical contemporary issues. I joined this gathering for some time and they were often very stimulating, informative and provocative. It was an intellectually enriching environment because it was a blend of the Lagos professional class who were seeking a better Nigeria. Having been exposed to the western world culture, most of us knew it was possible to build the Nigeria of our dreams. Obviously the forum was a think tank for Tinubu and a few others who ventured into partisan politics. I remember meeting  Iyorchia Ayu at that forum. Evidently this platform prepared them and contributed to their success as politicians because they were well informed through their world view and constructive discourse of contemporary issues.  I was therefore hardly surprised that Tinubu went on to have a very successful career in the Senate, using it as a platform for his incursion into national politics. 
Again, years later, my path crossed with Tinubu's when I was opportuned to serve the Lagos State Government while he was Governor. A Consulting group in which I had interest was responsible for birthing the Black Heritage Festival, with Bola Tinubu hosting the world and blacks in Diaspora at the historical slave trade route in Badagry.  We also participated in the Lagos State Ambulance outposts and other trail blazing projects in the State. This provided me with an opportunity to see Tinubu's Government from a professional perspective. Governor Tinubu liked innovation and there is no doubt about the quality of governance that he gave Lagos during his stewardship. His cabinet was composed of the best intellectual elite that the State had to offer. A good number were my friends and contemporaries at King's College, St Gregory's etc.
During his tenure as Governor, Asiwaju successfully laid down a template for transforming Lagos into a State of Excellence. It was a political mandate and it was automatically his duty to ensure continuity of the process. In spite of complaints in some quarters, he has continued to nominate only successors that he could trust to carry on the vision for Lagos State. As a regular visitor to the Round House, I had met BR Fashola as Chief of Staff to Governor Tinubu. I can confirm that in the run up to Tinubu's succession, Fashola was the dark horse. All the other contestants were politically well known names; but Asiwaju stood his ground, insisting that in Fashola he was giving us the best. The rest, as they say, is history. Fashola went on to become the best performing Governor in Nigeria,  with many even claiming that he outperformed Tinubu as Governor of the State.  That may be true. But the credit would still go to Tinubu, because Fashola was Tinubu's protege.  And now, after what seemed like a slow start, Governor Ambode is finding his feet and living up to expectations. So far, Tinubu appears to have  given Lagos State the best that is humanly possible within the realm of Nigerian politics. He deserves to be appreciated for that, not only by the indigenes of the State and other Nigerians, but also by all global citizens who have cause to visit and do business in the mega city.
On the issue of corruption in government, I would preface by acknowledging the gargantuan scale of the canker worm nationwide. Whether Tinubu was any better or worse than other public office holders of this era would be for history to judge. What we can discern in Tinubu's case is that he has used whatever resources were at his disposal to pursue a political agenda. These resources essentially constituted a war chest, no different from that kept by any other politician in similar leadership position. And we can tell from history that it is oftentimes difficult to draw a line as to what belongs to leader, what belongs to party and what belongs to the people. Nonetheless building the war chest is a responsibility that comes with the political leadership position. What might vary from leader to leader is the source, style and methods of acquisition; and most importantly what the fund is used for. Tinubu has been consistent in his crusade to protect the interest of the Yoruba race and promote political freedom in Nigeria. For instance, huge resources were deployed to establish and sustain NADECO as a haven of opposition to the tyranny that was festering in Nigeria at the time of Abacha.
Of course the more recent example of Tinubu's interest is in the current dispensation that we are enjoying in Nigeria today, where an unwanted government in the centre, in spite of its incumbency, was replaced by an opposition party. By all accounts, this has been lauded as unprecedented. Tinubu and his co travelers must have deployed huge resources to ensure the success of the endeavor. They must also be credited for their shrewd strategies, including the merger with the CPC. Without a war chest to oil the whole process, could it have  been possible to unseat the PDP which had total unfettered access to the Federal treasury as its own war chest ?
I do not want to be misunderstood by any account : I loathe corruption and what it has done to our nation. In fact my late father, Mr JK Ladipo who founded Lisabi Mills in 1939, also founded the first Nigerian League of Bribe Scorners in the 50s. I guess even at that time some people had foreseen  the debilitating effect that corruption could have on our development and the fabric of our society. In similar tradition I wholeheartedly support the present Government's anti-corruption crusade. Although it is hardly ever possible to completely eradicate corruption, it can be tamed to a more manageable proportion. This is best achieved by aiming for zero tolerance. The situation in the recent past when 90% of project cost was being misappropriated while 10% was left for project implementation was outrageous. In some instances project funds were completely spirited away with no intent or attempt to execute any project. It was outright brigandry and a rape of the nation's resources. The situation needed to be arrested and Nigerians were very thankful that Muhammadu Buhari was coming on board with an anti-corruption crusade; courtesy of the political merger that became the APC.
On his own part, Asiwaju Tinubu is hardly known for highly ostentatious or opulent life style. If anything, he known for sharing; using his own style of egalitarianism, wrongly of rightly. In fact he has used the resources at his disposal to better the lot of the masses, directly or indirectly This is a little more altruistic than locking money up in an air conditioned room in a village. The life of the legendary Robin Hood is instructive here, though he was at the very extreme end of the spectrum. Robin Hood robbed the rich and gave to the poor. But he was a thief nevertheless. The people loved him, but the law hounded him.
Perhaps more than any other politician of this generation, Asiwaju may have made the most personal of sacrifices for the political freedom and emancipation of Nigeria. Like any other politician, Asiwaju must have savored the thought of being the President of Nigeria. As the chief architect and senior partner of the political merger that held sway in the last election, he had every right, going by Nigerian tradition, to insist on being fielded as the party's flag bearer. Rather, the same man who had "forced" Fashola down our throat, gave up his own personal ambition for pragmatism. At the time, one of his close associates had explained that they considered Muhammadu Buhari to be more electable, and as such, in the interest of Nigeria, Asiwaju gave up his personal ambition to be President of Nigeria. Ditto for the office of Vice President, again in the interest of Nigeria, because they couldn't field a Muslim-Muslim ticket. For the office of Vice President, Asiwaju recommended Prof Yemi Osinbajo who is undoubtedly one of the best materials available in the country today. With such antecedents of personal sacrifice and a record of nominating competent people of good repute to higher public office, Asiwaju's commitment to a united and successful Nigeria cannot be in doubt, even to his detractors. We know many Nigerian political gladiators in similar position who would never let go of their party flag. They usually ended up losing elections. But Asiwaju's party won, vindicating him and establishing his political sagacity once again. In my humble opinion, he is a proven patriotic Nigerian.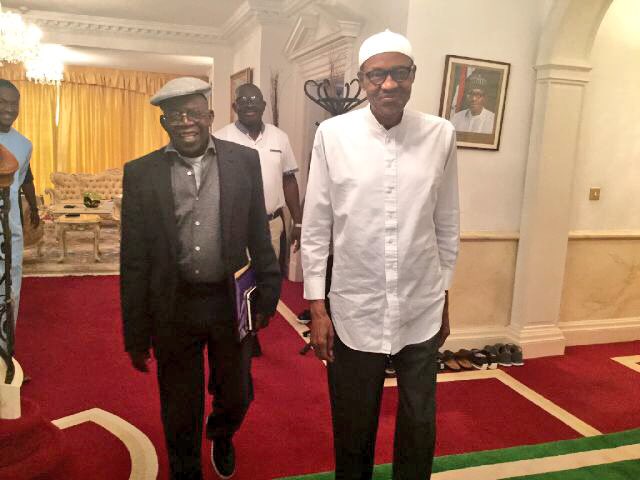 With the turn of events since the APC Government came into power, it is important for all Nigerians to appreciate the fact that Asiwaju's handshake across the Niger was done in good faith. This should be of interest to all Nigerians because the template for a successful and united Nigeria is almost always inevitably predicated on a partnership between any two of three major groups in the polity. It's a historical recipe and we need to pay attention to its characteristics.  The groups must be able to trust each other with power if it is to be rotated successfully. However, having won power at the last election, it appears that the partner from the north, who is actually the political junior partner (CPC), appears to be marginalizing the interest of the senior political partner the ACN and Tinubu. I was astounded to hear of a kitchen cabinet in the Presidency without Tinubu. The head chef had been left out of the kitchen ! The man who developed the recipe and cooked the soup has been obscured. How can Nigerians expect any change when the people who coined the change mantra and established its template are not in charge ? Trouble started in this dispensation when deliberate efforts were made in several quarters to curtail Tinubu's influence in the Federal Government. They said he had already nominated the Vice President.  They forgot to mention that he also nominated the President.  So his nominees for other key offices of Government, particularly in the legislature, were scuttled, all in an attempt to whittle down his influence. In their bid to disenfranchise and disrobe Tinubu, they threw the baby out with the bath water.
The wrangling for leadership of the legislative house is very instructive here because it has brought developments in the polity to a head. On the very day of election into the key offices, Nigerians were entertained to a round of political musical chairs and who is in the garden ? When the dust finally settled we were left with round pegs in square holes and foxes guarding our chickens. The Government's anti-corruption crusade was dead on arrival. We raised an alarm at the time but it fell on deaf ears. Again I would not want to be misunderstood regarding another legal maxim. Yes, all men are innocent until proven guilty. But when you nominate to public office persons who have one matter or the other already pending against them, particularly from previous public offices held, you put the nation at a disadvantage. From the start you have created an environment that could breed compromise. At best, even if he were innocent of the allegation, the nominee would be distracted from doing his work diligently. At worst, as now seems to be the case, the nominee could use his office, position and other apparatus at his disposal to blunt the law. My greatest disappointment is that President Buhari did not use the unique opportunity of history to give the nation a clean slate. If  Tinubu could nominate an Osinbajo of impeccable record and character, then President Buhari who is coming with an untainted public service record could also have promoted a crop of Nigerians with the right pedigree, to populate and drive his Government. I would never accept the defense often offered by politicians that it is the call of political expediency. There is never a reason to appoint people who are incompetent or of questionable character into public office. Nigeria is such a richly blessed nation that we can find competent people of good integrity in every nook and cranny of the nation to satisfy the so called political spread required. That was the unique leadership challenge of President Buhari and he had the personal credentials to make that call for Nigeria. That is where his anti-corruption crusade should have started.
Regrettably Tinubu has been an easy target of his detractors because of the deep schism in Yoruba land regarding  his leadership. Aside from his long standing differences with some key Yoruba elders, it appears that some of the contemporary social elite misunderstand or misinterpret his motives. Even now, a large number of Tinubu's followers have been lured away from his camp with the largesse of an office derived from his political patronage. I am not a partisan politician but I understand that, at the end of the day, politics is a game of numbers. Amongst all the Yoruba leaders, elders and even the elder statesmen alive today, Tinubu is the man with the numbers; politically speaking. Nature abhors a vacuum. In my humble opinion, it was a legitimate handshake across the Niger. 
Many of Tinubu's detractors are very quick to dissociate themselves from the political merger that was forged to clinch victory at the last election. Some mellowed when the change that they were seeking started coming into view.  If the other partners had remained loyal to the spirit of the agreement, my guess is that we would have seen much more progress with national development by now. It bears repetition that Tinubu's handshake across the Niger was done in good faith. It would be uncharitable for anyone to blame Tinubu for the turn of events.
Nobody is perfect. Not me, not you, not Bola Tinubu. But when we weigh everything on  balance it would seem that the man has contributed more good than otherwise to the development of Nigeria. I am therefore making an appeal to the political leaders of the nation to restructure their political relationships appropriately. This appeal is not being made because of Tinubu as a person, but rather in the interest of national unity. If that handshake, for whatever reason, is undermined today, then future handshakes and the future of the nation itself remain at risk. However  if there is sincerity of purpose, the major partners can still make amends. Let's get the head chef back in the kitchen. Tinubu is a seasoned politician with a world view, a detribalized Nigerian and a  Moslem with a Christian wife. He has obvious vested interest in a united Nigeria. Secondly, let's remove people who have any allegations of corruption pending against them from public office. They shouldn't be there in the first place. That paradox is turning our Senate into a circus. Nigerians are so agitated that they are asking the President to call for a referendum on the existence of the Senate. We cannot be paying these same people such horrendous amounts of money to debase our nation. If we must adopt the Presidential system of Government there is no reason why we cannot adapt it to accommodate just one House of Representatives.  Thirdly,  prosecute and sanction all persons who have cases to answer. No sacred cows.  That's the only way that an anti corruption crusade can work in Nigeria. A government that wants to fight corruption cannot have people of questionable character within its ranks, particularly in the strategic positions.  It's like light and darkness, you can't have both at the same time. Any attempt to mix both would only breed the type of chaos that we see playing out in the present government. President Buhari has to make a hard choice fast. I concede that it could  be a really tough choice for him, judging by the ding dong going on with Mr. Magu's confirmation as EFCC Chairman
It is impossible to pay tribute to Asiwaju Bola Ahmed Tinubu without discussing political developments in Nigeria. I have given my own personal view of Bola Tinubu in an objective national context.  And I have always wanted to tell my own
Chicago story. I have also used the opportunity to convey my perspective on some topical national issues.  Am good. So here's wishing the Jagaban a happy 65th birthday. I think he deserves a national award for his meritorious service. May God bless Nigeria.
Shex Ladipo