Priti Patel on DEC raising £12m in 24 hours for East Africa Crisis Appeal
---
Responding to the news that the Disasters Emergency Committee East Africa Crisis Appeal raised £12 million in one day, International Development Secretary Priti Patel said:
"The phenomenal public response to the DEC Appeal is a testament to the British people's unwavering generosity in response to suffering. Public donations to the DEC Appeal reached £7 million in just 24 hours – and the Government's match funding has increased this to £12 million.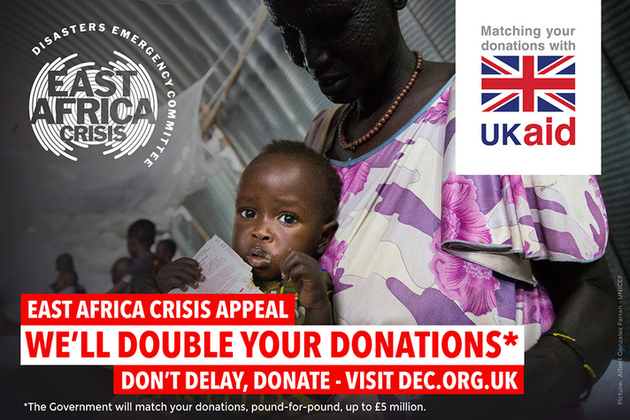 "By working together, we are making people's generous donations go even further, and getting food, water and emergency healthcare to more people across East Africa who desperately need it.
"We have acted quickly and decisively to stop people dying of hunger – the international community must follow Global Britain's lead and step up before it's too late."
The UK Government matched pound for pound the first £5 million donated by the public to the Disasters Emergency Committee Appeal.
The UK's support goes directly to the Disasters Emergency Committee Appeal and provides vital and life-saving emergency supplies.
The Disasters Emergency Committee brings together 13 leading UK aid agencies to raise money at times of humanitarian crisis in poorer countries. By working together we can raise more money to save lives and rebuild shattered communities.